---
---
From Whip Hand to Dallas
One Book's Journey from Cheese to Choice
The Agony Column for June 30, 2003
Commentary by Rick Kleffel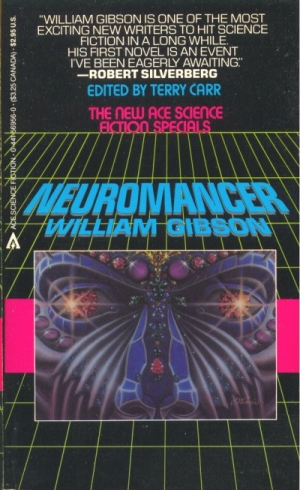 The true PBO of cyberpunk's Holy Grail.
It's not that uncommon for a book released as a trashy paperback to find itself hailed as fine literature -- or at least a precursor to fine literature -- somewhere down the road. Genre fiction offers lots of examples. William Gibson's 'Neuromancer' was released as part of an experiment by Ace books called the "Ace Specials", which launched the careers of a number of writers, including Lucius Shepard and Carter Scholz. The paperback original helped to define a genre, and the future. I was fortunate enough to be around Change of Hobbit in 1986, when Phantasia Press released the first trade hardcover edition. It's a beautiful book and one of the most valuable single volumes on my shelf. Not that I'd sell it.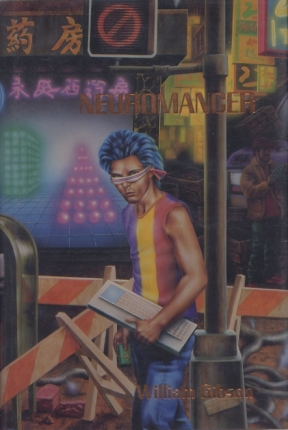 It only took two years for Phantasia press to get around to printing this first hardcover edition.
But some books have a less straightforward journey from the drugstore racks to the halls of literature. One of the most fascinating cases I've come across is that of Charles Willeford's 'Deliver Me From Dallas', which originally appeared under another title -- and with another writer's name. But before we get all the way back to 'The Whip Hand', it helps to get the same instant education in just who the hell Charles Willeford is that I got from the ever-helpful Dennis McMillan, in the form of the Willeford Biography he published, titled 'Willeford', written by Don Herron. And to digress even further, Herron's an interesting guy as well. He's written and edited collections about Stephen King and Robert E. Howard, as well as conducting the Dashiell Hammet mystery tour in San Francisco. Herron's bio isn't the most straightforward journey. It's more like sipping drinks in a bar with a Willeford enthusiast who holds forth on the subject at hand with a disarming overabundance of knowledge.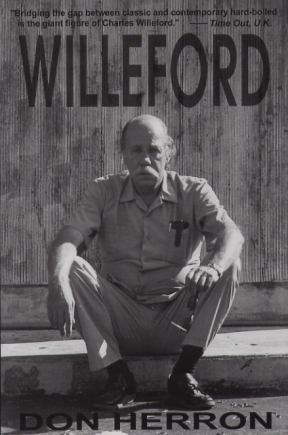 The Don Herron Willeford Bio published by Dennis McMillan features a classy front cover photo of the classic author.
Willeford was born in Arkansas in 1919. His family moved to Los Angeles, where he was orphaned at the age of 8. He was raised by a maternal grandmother, who put him in the "McKinley Industrial School for Boys" while she worked at May Co. When the depression hit, he ran away from home and became one of many "road kids" living in government camps. He returned to Los Angeles in 1935, lied about his age and joined the Army, where he remained through World War II, becoming a decorated tank commander and fighting in the Battle of the Bulge. He'd always wanted to be a writer, and in the late forties his poetry and prose sketches about his WWII experiences found publication.
And here's where the journey from 'The Whip Hand' to 'Dallas' begins.
Of course, in the manner of all the best mystery writers, before we can take that step forward in the past, we have to step backward to the present. Jesse Sublett a musician who has played with Mick Taylor of the Rolling Stones at one point found himself with a need to quit cigarettes. In order to do so, he decided that he would reward himself for not smoking with the purchase of lurid vintage paperback novels. Of course the outcome was that he had augmented one addiction with another, more expensive addiction. Nothing is worse than books. I mean -- it's not as if you stack old cartons of cigarettes around the house once you're done with them. A book addiction requires that sooner or later, you learn how to fold space in the manner of Doctor Who, or get rid of books. There are a lot of unsung Time Lords out there. Sublett's vintage paperback collection led to the discoveries outlined in his fascinating introduction to the McMillan edition of 'Deliver Me From Dallas'.
So, in 1950 Charles Willeford was burning to become a writer. He was serving at the Hamilton Air Force base near Novato, California. On the weekends, he'd drive up to San Francisco to the Powell Hotel, where he'd check in and write when he wasn't taking time to talk to used car dealers as research for his second novel, 'The High Priest of California'. He was also probably working on a version of 'Deliver Me from Dallas', co-authored with W. Franklin Sanders. Though between Herron's bibliography and Sublett's introduction, the chronology is rather unclear, apparently Sanders was left to send the book off to publishers. With 'Deliver Me from Dallas' roundly rejected, Willeford went on finish his second novel, 'The High Priest of California', which did manage to find publication.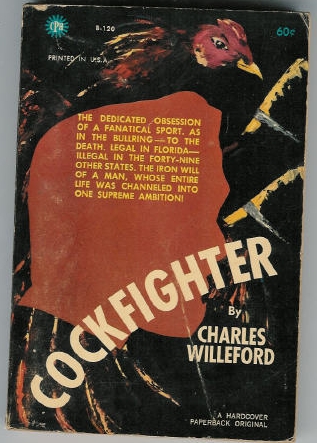 Italic type.
Willeford's career inched forward as he wrote novels now acknowledged to be early masterpieces of sixties noir -- 'The Burnt Orange Heresy' and 'Cockfighter', with its ultra-cruel narrator who plunges needles into his birds to see how much they can take. 'Cockfighter' was memorably adapted for the screen by Monte Hellman, starring Warren Oates, Harry Dean Stanton and Willeford himself. It wasn't until the 1980's, when he began the Hoke Moseley series of South Florida noirs, that Willeford began to get the recognition he deserved. With 'Miami Blues', 'New Hope for the Dead', Sideswipe' and 'The Way We Die Now', he demonstrated a taste for absurd violence that would inspire critics to rank him with Chandler and Hammet. His tough-guy writing is lauded by sources as diverse as Quentin Tarantino and Kurt Vonnegut.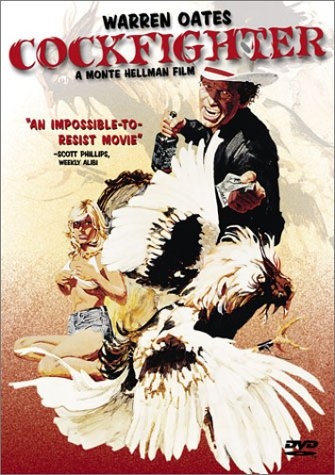 From 1974 and now out on DVD.
Looping back once again to 1960, we find W. Franklin Sanders with the publication of a novel titled 'The Whip Hand' published by Fawcett Gold Medal. It languished for some 30 years, getting a few bucks at the vintage paperback swap meets for its lurid cover and title. (Jesse Sublett tells me the actual title on the title page is indeed 'The Whip Hand'.)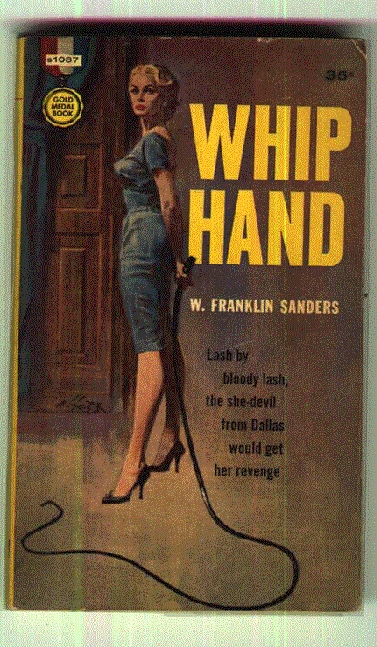 Jesse Sublett was kind enough to send me this scan of his copy of 'The Whip Hand'.
In 1991, Jesse Sublett, trying to kick cigarettes with a paperback book collecting habit, met Dennis McMillan at Vagabond Books in Westwood. McMillan was already reprinting some of the best Willeford works, and the two became friends. McMillan, ever the generous publisher and fan, eventually sent Sublett a fan's dream box; a pile of old Willeford papers and manuscripts. At the bottom of the box was Willeford's original 'Deliver Me From Dallas' manuscript. Sublett read some of the papers, but like a good book addict he quickly filed them away, and continued on his paperback binge. He specialized in Fawcett Gold Medal editions, but even though he loved the cover, he passed on the copies of 'The Whip Hand' he had seen because they weren't in great condition.
Then, months later, Dennis McMillan asked Sublett "Hey, did you ever read the manuscript about the woman from Dallas with a bullwhip?" In the days before the search engines, he was happily relegated to searching for the book in actual bookstores, and he located it in a shop in Big Bear. A side-by-side comparison convinced him that they were the same book, and for the most part, pure Willeford. A letter from "Sandie" to "Chas" in the same box that McMillan had sent Sublett clinched the deal.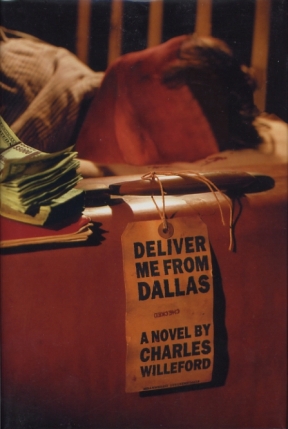 A most unpleasant place to spend your vacation time.
McMillan went on the publish Don Herron's ripe biography 'Willeford', in 1997, and in 2001 published 'Deliver Me from Dallas', the rejected Willeford original that started his career. You can now pay $300.00 or so for 'The Whip Hand' -- and $30.00 for McMillan's beautiful reprint of the original.
For readers wanting to get an introduction to Willeford, 'Deliver Me from Dallas' is an excellent choice. First off, you get all the usual qualities of McMillan books that make them practically an auto-buy for any serious reader. Sewn bindings, excellent art direction, Sublett's wonderful introduction and generous printing (read big type for tired eyes) are all the hallmarks of McMillan's classily crafted books. But the bottom line and the final judgment are rendered on the quality of the writing.
In this case, it's clear that from page one, book one, Willeford was a talented writer. Even though it was written more than fifty years ago, Willeford manages an edgy cruelty that makes the pulse pound. For those of us used to the endless parade of novels written in round-robin third person narrations, Willeford's novel is something of a revelation. It's written in round-robin first-person narrations. The sick hicks are done with a savage flair. Characters are introduced, allowed to strut their stuff and then heartlessly murdered. I'm not the best person to talk about how this fits into the hard-boiled tough-guy tradition. There are scholars for that. I can tell you that if you've read Richard Laymon, Joe R. Lansdale, or Norman Partridge, you'll find a familiar voice here.
And you find a bigger story than just the tale of Bill Brown, an LA cop who has a bad day and pays for it big-time. There's no real mystery in the novel. Things start out bad and get worse. People live and die. The real mystery here is the story of the book itself, the journey from the San Francisco of the 1950's to the world of private publishing in the year 2001. It's a story of mistaken identity, amnesia, subtle theft and eventual redemption long after the man who deserved the redemption had passed away. It's the story of a writer, obsessed fans, chance meetings and dedicated publishers. It's one book's journey.
Thanks,
Rick Kleffel