05-17-04: Aye Caramba!, Hard Boiled LA Noir -- And Supernatural, One Fish, Two Fish, Goldfish, Go Fish, Mind the Gap
Caramba!
Nina Marie Martinez Gets to the Volcano Via 1963 Caddy


A Tale Told in words,pictures and turns of the card, complete with artifacts and cut-outs. Click image to see full-size.
I understand that in many ways, I'm just a bundle of self-contradictory thoughts and inclinations. So, while I can't claim to have ever read a graphic novel, because the whole lack of typeset pages thing bothers me greatly, I can't get enough of illustrated novels and highly designed books. For example, one of the great designed books of last year was 'The Thackery T. Lambshead Pocket Guide to Eccentric and Discredited Diseases'. I absolutely loved what John Coulthart did with the interior design and illustrations of the book, keeping it constantly lovely and visually interesting.

So now I've come upon a book that seems to bear the same spirit. Designed by Peter Mendelsund and Johanna Roebus, 'Caramba!' by Nina Marie Martinez, from Knopf, powers up the prose with a look that's exciting and really, really fun. What's more, the book itself is a hoot and a half. Set in Lava Landing, a town just this side of Mexico, it starts with a murder and concludes with an earthquake but no, alas, no Volcano Queen. Still, I guess we can live without the Volcano Queen if the journey there is half as much fun as this one appears to be. 'Caramba!' is a novel that is "A Tale Told in Turns of the Card", featuring a game of chance, the novel itself, and artifacts, letters, maps, grocery lists and menus from restaurants that may require a post-dose of Pepto. The cover is issued as they say in the trades 'sans DJ', with the sort of shiny illustration that one finds on boys' adventure books. This Thelma and Louise-style novel is not exactly a boys' adventure books though.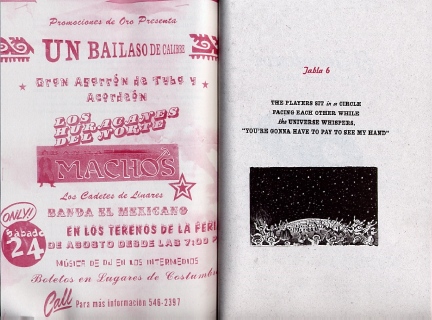 A sample set of pages from this delightful novel. Click on the image to see this full-size -- and why you want to buy this book!
The novel is a sort of slippery-stream combination of humor and hallucination, neither of which is common enough in the literary landscape. And guys, get this: this here is one of the few books that you buy that you can hand off to the other half and see her smile instead of saying "Now, what are you on about?" And you can show your Doubting Thomas most authoritatively: a book that's fun, full of interesting meta-fictional illustrative touches and best of all, undeniably weird. This is, of course, the highest recommendation that I can give it.



Hardboiled & Vine: The Quick by Dan Vining
Silver Shock Cover not shown!
I just got this book and it looks right up our collective alley. It offers confirmed LA hard-boiled noir for Terry D'Auray and a nice twist of the supernatural for me. Dan Vining is another writer and editor for Rolling Stone -- how many editors do they need, and if they need more, can I be one? -- who has authored a first novel that looks quite intriguing. You've got your PI, Jimmy Miles, with a client who is the desperate daughter of a dead man. Check. And you've got the whole problem with Jimmy's complicated life. He's a Sailor. And what that means is not exactly clear at the onset; "There are rules," one of the characters tells another, "we just don't know that they are." You can bet that whatever those rules are, they certainly make it easier for Jimmy to be a PI -- and harder to be a normal human. Of course, in my experience -- and I have quite a bit -- it's not easy to be a human in LA in any circumstances.

In this novel, those circumstances include the traditional "monsters walk among us unnoticed" theme that has served so many writers so well. It's an easy claim to make, but it's much harder to make it pay in the realm of fiction. Still, this novel looks to hit some of the right marks; corruption in high places, coercion in low places and in a world run by unseen monsters. Of course we know by the latter that we're operating in a realm of fantasy, since in the real world, the monsters are all too apparent!


One Fish, Two Fish, Goldfish, Go Fish: Talking With Tom Perrotta
No, no, no. Sorry.
That's the way the cookie crumbles!
Last Thursday, I had the pleasure of talking with talented novelist Tom Perrotta. His latest work is the superb 'Little Children', a novel that you'll devour, I mean devour in a second without even realizing how fast you turned the pages. But Perrotta has a lot to say in those quickly-turned pages, and he and I had a wonderful chat about his past in fiction and his future in film. You can look for a filmed version of 'Little Children' directed by Todd Field, who got an Oscar nomination for 'In the Bedroom'. In the interim, you can have the inimitable pleasure of the movie for your mind created by Perrotta's almost magically clear prose. He's one hell of a humorist, offering the kind of witty insights that we usually get from our UK imports in a purely American guise. Trust me, even if you think that 'Little Children' is not your cuppa, you'll find that it's utterly irresistible.

And now that I've drawn out the suspense, here's the deal ladies and compulsive book-buying bookaholics. The original dust jacket illustration for 'Little Children' has two, yes count 'em two actual Goldfish™ -- or at least Goldfish™-enough-like shapes -- so as to excite the legal department of Pepperidge Farms. They were there for a reason; they play a part in one of the opening scenes of the novel. Knopf agreed to take them off, but only after the ones already shipped were gone. Everybody's happy, especially those who bought the first printings -- with the Goldfish™on the cover. You heard it here first. Now go buy one of the books, whatever the cover, and read it. If you're lucky -- and in the Santa Cruz area -- you can stop by Bookshop Santa Cruz, which is fortunate enough to have some signed copies. And while you're waiting for your copies to arrive, you can listen to the interview -- all 55 minutes of it, uncensored and uncut, talking about things that might get you in hot water on broadcast radio (in an utterly civilized and literary fashion, of course). I've uploaded both RealAudio and MP3 versions, schlepping the bits over to the server while I type this article. Fortunately for you, chances are you won't need to wait as long to download as I did to upload. In fact, chances are you can download the thing in the time it takes you read this, instead of the time it took me to write it.


Mind the Gap: Alastair Reynolds 'Absolution Gap' Makes it to the US
Thanks Ace -- you're ace!
For those who were waiting for a US copy of 'Absolution Gap' to make it to the United States, your wait is over. Ace/Penguin-Putnam have just released the US hardcover version of the novel that completes Reynolds' series. Mind, they do say that it completes the 'Revelation Space' "trilogy", and while that's true, I'd suggest that readers consult my recent article to find out exactly what to read and what order to read it in to get the most out of Reynolds' wonderful series, which is indeed much more than a trilogy. And if you already have a nice tight UK version, complement it with a US HC, which your grandchildren can sell off at a handsome profit in a time when nobody has any of those old, "single purpose" "books" anymore. In the days of smart paper and E-readers, have no doubt that old-style books will retain their value -- at least their sentimental value.