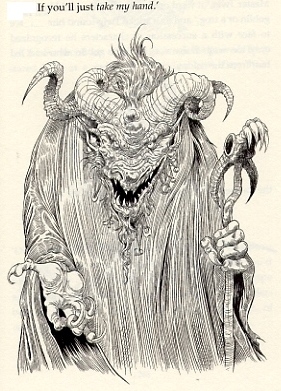 "If You'll Just Take my Hand." Bill Gates unveils X-Box.

Random House Enlists Paul Stewart and Chris Riddell to Mount a Dual Campaign on the Empires of Potter & Snicket


The first two books in Paul Stewart's and Chris Riddell's 'The Edge Chronicles'.
One thing you can count on any art-oriented business to do is to miss the point. In music, in movies and books, those who run the business side have the peculiar idea that when a particular artist becomes suddenly, wildly popular, the reason is because the customers want the form or content of that original offering. That is, if a movie about cole slaw hits it big, the audience must be starved for cole slaw movies. Or if an artist who sings using only an auto-harp for backup hits it big, why, the world needs lots of recordings of solo auto-harpists. Or if a book about a boy wizard hits it big, then by gosh, the world is sorely in need of more books about boy wizards.

Actually, what the audience is usually responding to in such cases is not the specific form or content but instead, the novelty and artistic execution of the content. Now the first wave of follow-ups to mind-boggling hits often does fairly well. Of course, the sales figures are often based not on sales to end customers but sales to retailers, and how much is shipped to retailers. Best sellers are created by publishers simply by printing a boatload of books or recordings. They might as well ship 'em to the remainder bin. [This is not true in the realm of movies where box office results can render rip-offs unprofitable; but it doesn't seem to stem the tide, perhaps because of 'The Producers'-effect, in that failures still rack up big money for somebody.]

To be fair, I heard good things about the books of Paul Stewart and Chris Riddell last year from my UK contacts, but alas, was unable to lay my hands on any. This year, they've been carpet bombed into bookstores as of yesterday, with standee displays and giveaway gimmicks. Let's approach these books with the highest cynicism, from the outside in. Because I think that somewhere in there, there's something worth looking at; but the audience may not be as Universal Pictures as Random House hopes.

What we have here is clearly, on the marketing side, an attempt to gene splice Harry Potter with Lemony Snicket. You've got the perky boy wizard look personified by Twig, the youth abandoned in the forest and left to be raised by Wood Trolls. Magic and monsters abound in these books; but more on that later.


3-d glasses are available free with purchase while supplies last.
Now when you check the form factor, however, you'll note a very distinct resemblance the wonderful Lemony Snicket books of Northern California McSweeney's Mafia member Daniel Handler. My teenage son immediately commented on this; when the teenagers notice something about a book, it means that even Jimmy Hoffa, interred long ago in my coffee table is painfully, unpleasantly aware of it. It is shining in his face like a neon lamp, pulsing in his inner ear like the bass beat from a passing pickup truck, rammed down his poor dead dry throat like a plumber's helper helping a plumber.

As far as books for teenagers go, these look to be pretty much aces. They're as well-written as the Potter tomes (and for the children's sake, not as thick), from a brief examination. The real highlights are the illustrations of Chris Riddell. These are not available in either of the other series, and they are quite beautiful. They even verge on the kind of creepiness that once made Rat-Fink toys famous. And as far as plot goes, they also seem quite well-suited to adolescent boys. Since I almost fall into that category ­ or so I'm told by adults in my general vicinity, I can say with authority that the density of monsters one encounters herein is positively bracing. Now I must admit that both boys asked -- twice -- about these titles. They both really admired Riddell's illustrations and Stewart's monstrous inventions. That's an incredibly good sign that 'The Edge Chronicles' have a chance. The fact that they're all illustrated is admirable and makes them even more readable by the target audience. But. But.

You see, while the target audience for Potter is adolescent boys and girls, the books are really selling well to adults. Sure, there are lots of parties that you'll see where die-hard teenage fans go gaga. But I'm guessing that not many fourteen-year old kids are shelling out the twenty-plus samolians required to bring one of these babies home. So moms and pops are buying them, and one suspect reading them as well.

As for the Lemony Snicket books, while they're aimed at a slightly younger audience, the incredible wit of Daniel Handler is so effervescent that even I enjoyed the one I read immensely. It's really in the Neil Gaiman range of funny prose. So, once again, while the audience may be the kids, the buyers are the parents, who again, enjoy reading them.


A definite Rat-Fink vibe to this illustration.
I'm not so certain that the primarily male audience for 'The Edge Chronicles' will be drawn away from their X-Boxes and Halo parties to go gaga over the cavalcade of beautifully illustrated and well-written monsters in these books. But I am certain that their parents will also find the whole business a bit too disturbing -- and yet also too "young adult" -- to go gaga over them for their own sake.

Now, it's very possible to go gaga over Riddell's illustrations. Stewart's prose and story obviously offers a lot of nice craftsmanship and the slack-jawed satisfaction of a parade of monsters. But I think I can safely conclude that there are not many folks out there like myself who still like to wallow in monsterama epics. These books have been languishing over in the UK since 1998. I hope they won't languish here. I'd give anything to see kids compelled away from the deeply evil mind-erasers built by the sick desginers in Redmond.

But think of it. How many teenage boys do you know who read more than they play video games? If you think of this audience: "compulsive teenage male readers", the words BIG MONEY do not spring to mind. You're more likely to think of a cancelled television series: "Freaks and Geeks". So I wouldn't hold my breath and wait for the big bucks to roll in. But I might spend more time than was healthy looking at Chris Riddell's wonderful illustrations, enjoying Paul Stewart's entertaining monster creations.

No, in the spirit of innovation that really sells books, I'd look for something about a boy wizard who discovers an ancient manuscript in his father's basement that's tied to a conspiracy involving the Tri-Lateral Commisson and those who hate either President Bush or ex-President Clinton, or those who love one or the other; our intrepid hero will eventually uncover, after many double-crosses, car chases through city streets that aren't quite on the map and a bunch of research on non-existent internet sites, the true secret of the long lost genius's manuscript. Yes, Long Lost Genius discovered the Ultimate Diet. His creation:

It's a cookbook.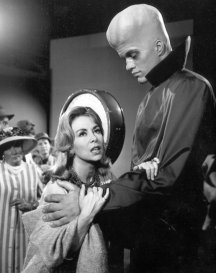 "I'm sorry ma'am; we're all out of Halo 2. Do you think your boys would like to read a book?"