Ignoring the Obvious


No traveller returns, or passes spell-check in a US word-processor.
Read all about it somewhere else. Here, you're going to find a look at the three latest PS Publishing novellas. Yes, I've been a bit remiss, but anyone who is tracking the site will know it's not like I've been taking a lot of time off. This is just, I guess, the busy season for books, and I'm having one heck of a time keeping up. The stacks are positively staggering. Still, time must be made for our best and brightest publishers, and PS Publishing certainly qualifies there.

Going by the ever-unreliable ISBN number, I'm guess that the Paul Park novella, 'No Traveller Returns' was the first to see the light of day. Or the dark of night, as it were, since it treats a rather dark subject. The unnamed narrator of 'No Traveller Returns' starts the novella with a Fortean experience; he encounters an ape-man in the mountains of Northern India. Upon his return, he learns that his mentor, Jim Carbone, has died. And quite simply, the narrator pursues him, entering a surreal borderland of harsh mountains, lunatic monasteries, odd cities, fascist police and the not-to-be-left-behind beautiful women. What would a surreal afterlife be like without beautiful women? I hope never to find out!

Paul Park has written a passel of highly regarded science fiction novels, and he's a writer who was highly recommended to me by Kim Stanley Robinson. With the recent discovery of "Homo tom thumbus" as the wag over at the New York Times called Homo floresiensis, this whole "ape man in Northern India" aspect takes on a much more urgent tone. But then the overall theme of this novella, which Elizabeth Hand, who writes the introduction, calls "a prose poem in the shape of a grieving man", is about as urgent as one can get. At least while you're still alive. Once again, PS has provided readers like myself with a perfect passport to the works of a highly regarded author. Alas, I just ran a bookfinder search for Park's works, and it came back with a distressingly long list of essential new books to read. But they're actually rather reasonably priced, for once!


Separation of church and space.
I've been reading Stephen Baxter since I first encountered his work in the PS Publishing line. His first two novellas for them both slotted in to the "Xeelee sequence", as do the novels in his new series, 'Destiny's Children'. The Destiny's Children Trilogy includes 'Coalescent', 'Exultant' and a third novel to come, but these are set long before the PS Publishing novellas, before the conquest of Earth by the Xeelee. The PS Publishing novellas -- 'Reality Dust', and 'Riding the Rock' -- take place long after the conquest, in fact, after the occupation has been thrown off. Of course, once mankind is free from the aliens, the first order of business is to punish any of the collaborators. Never enough death about, is there? And certainly, never enough punishment! 'Mayflower II' is a generation starship that a handful of immortals take to escape their potential punishment as immortals. As the years stretch to centuries and the centuries stretch to millennia, evolution begins to work on the inhabitants of the ship. But not the immortals...

Baxter is a big-thinks kind of guy, and the plotline I'm sensing here seems to be quite a perfect little Petri dish for a novella of big thinks. As with Parks novella, you'll get a gorgeous Edward Millar cover and 87 pages of thoughts larger than your brain is likely to be able to come up with during lunch. Or mine, at any point in the day. In fact, what Baxter is doing with his PS Publishing novellas is no less than a stealth series that slots in nicely after the rest of his Xeelee novels. Which of course, I can add to my sub-orbital launch platform book stack.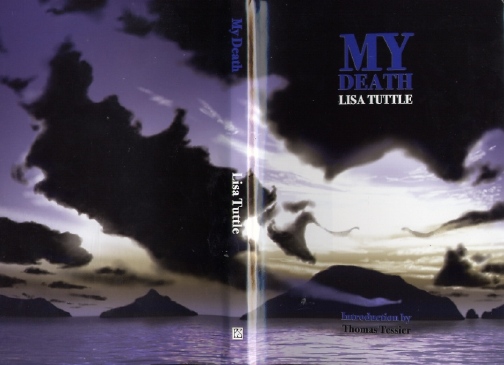 Mark Harrison takes up the lead as artist for PS Publishing with Lisa Tuttle's 'My Death'.



I've included the gatefold version of the cover to Lisa Tuttle's first PS Publishing novella, 'My Death', because it offers the work of a new artist, which is the sign of a smart publisher. Now, this is not to say that I couldn't live on a steady diet of Les Edwards covers, but since Edwards is now doing work for US publishers, he may be getting a bit busy, and have to let artist Mark Harrison take on some of the chores. It's pretty nice stuff really, different, but keeps up the same vibe, albeit without the oil-painting grain effect. And showing the cover painting is appropriate because 'My Death' is about a biographer who discovers a secret within a painting done by a novelist. The painting, labeled 'My Death' is clearly a self-portrait from a critical moment in the writer's relationship with her art teacher, an important Scottish artist.

That moment, portrayed on canvas is the lynchpin around which both the writer's and the artist's subsequent work turns. But what happened? The writer, still alive, but 90 years old is unhelpful. The artist is...dead. The biographer finds that she's becoming obsessed with that long-lost moment, that phrase that connects -- with her life.

Tuttle wrote one of the best novellas in the long lost, sorely missed, now welcomed-back 'Night Visions' anthology series. She's collaborated with no less than George R. R. Dot. When. Will. The. Next. Book. In. His. Series. Come. Out. Martin. Given that his book has a cover that could authentically be called ominous, one tends to think that perhaps this Is. An. Omen. That. The. Next. Book. In. That. Series. Is. Coming. Out. Soon. And you can look forward to Tuttle's new novel, 'The Mysteries', coming out from Bantam in 2005. Really!