Graphic Novels Forge Fear-Inducingly Ahead

This box couldn't be for books, I thought, as I arrived home. This box is too big for books. Maybe my wife has ordered up some more shirts from Lands End. But like a kid in a candy store, my hopes are rocketing. What could be inside here, I wondered. Pantheon, Pantheon...Hmmm.

OK. Dan Clowes' 'Ice Haven' came to me via Pantheon. And now a huge box o' more books, featuring some stuff that literally blew me away. You know, I have this deep-seated desire to sort of diss the whole graphic novel phenomena. Look, I just betrayed myself! I called it a "phenomena". It's not. Certainly not when you look at the stuff I got late last week. Yes, my purist bent, my fussy streak, they both want me to dismiss this as a passing phase. Something we can and should "get over" or "get past". But the fact of the matter is that every time I try to do so, I'm facing with something positively amazing, like 'Ice Haven'. A bombshell in a beautiful package. Or in this case, three bombshells. Wowsers, no more dismissin' for me.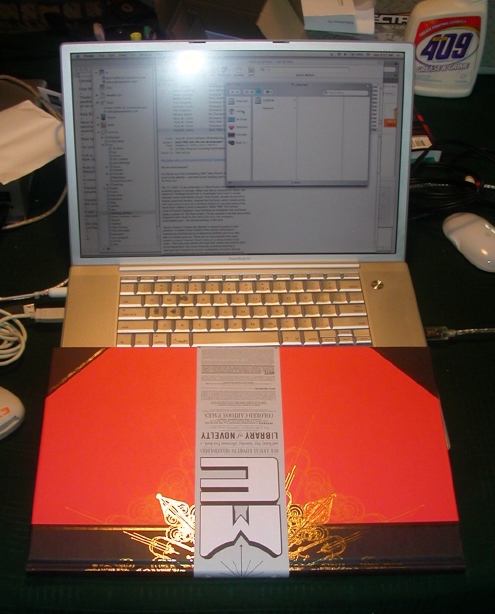 As big as my laptop.
Too Big to Scan.
Not when I get something like 'The Acme Novelty Library: Annual Report to Shareholders and Rainy Day Saturday Afternoon Fun Book' (Pantheon Books / Random House ; September 20, 2005 ; $25) by Chris Ware, author of 'Jimmy Corrigan, The Smartest Kid on Earth'. I'll admit, I made a big boo-boo when I first put this up on the Rolling Shelves. I looked at it and saw the way the author had put together a variety of cartoon styles in a single publication and thought of Dan Clowes, who told me that in 'Ice Haven', he was trying to achieve that same effect -- the weekly anthology, so to speak, that you get every Sunday when you get the color comics with the paper. The clashing variety of styles and content, advertising and fiction and humor all combined and literally tossed together on a page. Ware is clearly working for the same effect, and damn if he's not succeeding.

But 'The Acme Novelty Library' is really much more than the Sunday comics transmuted into art. The real model here in some cases at least, seems to be 'Boy's Life', you know, the magazine you used to get when you were a Cub Scout? I dont know if it's in production today, but back in the day, I remember 'Boy's Life' quite vividly, and I remember the style of the advertisements, which Ware captures to perfection, even as he's ruthlessly skewering their content. Yes, I was one of those kids who sold personalized Christmas cards based on an offer out of the back of that magazine, and yes, I did earn the walkie-talkies. Of course, Ware has something a bit more sophisticated on his mind. That's why he's got an advertisement to 'Make Mistakes Get Children and Forever Alter the Flavor of Your Life.' He nails the style so perfectly that it's hard not to choke up, because what he says resonates back to your childhood as well as to the, well, let's call them "new challenges" your own children may face.


Multi-faceted pages.
But for there's so much more here, I really can't suggest strongly enough that readers hie thee hence to the bookstore to check this one out. If you're the kind of person experiences book lust, prepare to feel faint. This huge book -- almost the exact same area as my 17" Apple laptop -- is chock-a-block with wildly different art, text, fake adverts. You know that "Rainy Saturday" shtick? They aren't kidding. This really is the perfect thing to have in hand on days when your brain can't accommodate the flow of an austere pictureless novel. This is dense, intense and filled with little bits of wonder, joy and unalloyed pain. Even the "belly strap" -- that ring of paper around the book -- will eat up time, and there are six different comic strips on the back of the thing, which you'd have to detach to read. If you were a totally compulsive collector, you could buy a dozen copies -- six to hold pristine in their shrink-wrap, and one each to read the strips. And the quality of the production is so high, it would be worth it if you had the disposable cash. The production quality is astoundingly high.

Whether or not you need shirts from Lands End, the chances are that you need 'The Acme Novelty Library'. And the really, really good (or bad, depending on your cash-flow-vs-compulsion quotient) news? This is just he latest version; there are many predecessors. In fact, I just randomly opened to a strip featuring "Quimby Mouse" that summarized one potential reaction to the possibilities in here. In it, Quimby went to the video rental store, and rented some movies. In the following panels, he's in a retirement home, feebly waving his hands. I can see that happening with this series. You probably shouldnt go that deep. But maybe it is nice to know that drowning is at least possible.


Pop-art short stories. Take your meds, now.
Next out of the box is Steve Powers' 'First and Fifteenth: Pop Art Short Stories' (Villard Books / Random House ; November 1, 2005 ; $17.95). This is a square 10" x 10" collection of short stories told entirely by pop art images. Powers is a one-time graffiti artist who earned himself a six-count indictment and a glowing review in New York. Here, he turns to very strange sort of one act plays done as a series of pop-art posters, any one of which you might find hanging in a chichi art salon or, equally likely, plastered over plywood wedged into the empty spaces left by broken windows in a bad part of town.

You've got to hand it to Powers. He's come up with something very unique, a wildly weird form that allows him to get at ideas, at people, at characters, and at storytelling in a manner nobody else has done yet. Should you pick this book up in the store, you'll know immediately if it's for you. Powers is the Iggy Pop of graphic novels. He kind of hits you over the head with concrete, in this case, the concrete you might expect to find these images plastered upon. But he makes some very nice not-so-blunt points.

Witness the first story, where it looks like a heavy-handed superhero lampoon, at least until you get to the panels where the character's flaws are revealed. Then it ain't so funny. Powers adds a nice sting to his work, to take it beyond sloganeering and into another realm entirely. He's write to describe the works here as short stories, but theyre not like anything you've ever "read" before. And reading is not necessarily the best description of how you experience these works. 'First & Fifteenth' is a lot like an art museum exhibit -- with a plot.


The terror within -- this book!
And while it is not yet true that everything in the world can be connected to McSweeney's, we're getting well within the six degrees. You've sent he work of Charles Burns in this column before, when I scanned in an issue of 'The Believer'. Burns is the official cover artist for this publication.

Given the strong nature of his images, you wouldnt think he's be particularly likely to churn out something as straightforward yet as complex as 'Black Hole' (Pantheon Books / Random House ; October 18, 2005 ; $24.95). But there it is.

With no numbers of the super-high-quality, thick pages, it's hard to say exactly, but this looks to be about 400 pages of graphic novel. Moreover, it really pumps up both aspects of that oft-bandied term. It's very graphic and yet, readers will find it very novelistic.


Shedding your skin. Not as fun as it looks.
Part of that is the result of Burns strong illustration style. They layout and design here are key. Unlike Ware, who has a throw-everything-at-the-page style, Burns is very restrained. All the pages are in black and white, with nicely lettered text. The story, on the other hand is extremely creepy and chilling. Burns has gone and taken the 1970's and dressed them up with a horrific, sexually-transmitted disease that might manifest as a few bumps.

Or, might turn you into a monster. Nobody seems to know. He captures the world of teenagers and twenty-somethings adrift in a world of casual sex and drug use, a world that seems both surreal and seedy.

Trust me when I saw that this book is creepy and horrific. I havent seen or read anything that gave me the shivers like this in a long, long time. 'Black Hole' should definitely be on any list of the best horror works of this year. Burns's vision is like some illness itself, an illness that would taint everything you taste with the reek of sour milk.

But this isnt pure gross-out material. In fact, there's very little of that here; just enough to keep your skin crawling. Mostly, what's disturbing is the unvarnished portrait of human animals in all their sweaty, smelly glory. Oh the horror of us. As if we need a reminder.

But it seems we do need reminding, or at least, we enjoy those reminders of our own grosser nature. And these three graphic novels do a pretty damn good job at providing glimpses of our Big Ugly.

And yet each of them is big-time beautiful; beautifully written, imagined, illustrated and even printed. Moreover, theyre attractively priced. For now, at least. Wait until the collectors get a hold of these things. Now that, that will be ugly.