A Feast for Fantasy Readers

It's here...almost!
Fantasy readers have a lot to be thankful for. These are absolute boom times for fantasy fiction, with the shelves over-stuffed with great work by great authors. Of course this month, it's not only the fans who are celebrating. The publishers are as well, with the release of the much-anticipated fourth book in the A Song of Ice and Fire series, 'A Feast for Crows' by George R. R. Martin (Bantam Spectra / Random House ; November 8, 2005 ; $28.00). Pair that up with the third book in Steven Erikson's Tales of the Malazan Book of the Fallen, 'Memories of Ice' (Tor / Tom Doherty Books ; November 9, 2005 ; $$14.95) and you've got, well, a couple of days of reading. Assuming you can read 750-plus pages per day.

Judging by the fervor with which readers have been awaiting the latest installment in George R. R. Martin's fantasy series, that seems distinctly possible. My friends who are deeply into this book have been lusting for it for literally for years. In fact it was two years ago when my wife and I first heard Martin read from it at Torcon. I recall returning to a third-degree inquisition as to when precisely it was going to come out. "Soon," I replied. "Real Soon Now; RSN." ...

Of course, anyone who has waited years for the limited edition of Clive Barker's 'Books of Blood' knows precisely what RSN means, and "soon" is not actually part of that definition. But the long wait is sort of over and Martin has delivered 745 pages of material, if you include sixty, count 'em sixty pages of Appendices. That's how complex things are in this series, and it's nice of Martin to include these as the series progresses. When the delivery dates between entries are so stretched, readers -- at least readers with sieve-like memories such as mine -- need these lists to help keep the extensive cast of players straight. For me at least, it makes reading a series a lot more enjoyable. If you subtract out the Appendices, the novel itself adds up to a mere (I'm looking at it) 684 pages. That may sound like a lot, but in fantasy-novel terms, it's barely novella length. Those who want to read the novel entirely and one-hundred-percent untainted may want to skip the next paragraph or so. I'm not going to tell you anything more than you can find out by glancing at the DJ, but I'm the kind of person who does not even read the DJ notes of most books. And I know that a large percentage of my readers will want to journey into this territory entirely and blissfully uninformed.

For those who can take a bit of a preview, this "novella" focuses on events in King's Landing. While the War of the Five Kings has gone into the history books, things are not exactly hunky-dory. Yes, King Joffrey is dead and readers who loved to hate him can dance on his literary grave. Cersai is ruling in King's Landing, and Robb Stark's death has apparently put paid to the Northern rebels. Stark's siblings are scattered, and as the title suggests, the human crows are gathering to feast on the remains of the kingdom. And that's enough said.

Thankfully for readers, Martin is a straight shooter and explains his methodology. When he (and / or his publishers) realized that he had two books worth of material for one story segment, he was faced with a choice. He could either cut the entire baby in half and end it with a "To be continued..." Or he could focus each volume on a separate setting. So when you come to the end of the book and realize that you haven't really read doodly-oodly about the The Wall, well, Martin himself is kind enough to step in and tell you that's coming next year in 'A Dance With Dragons'. I really like this decision for a couple of reasons. I realize as a writer that Martin must have had a devil of a time extricating the different plot strands. Cutting the whole thing in half would have been a much easier decision to make. But this provides for a more complete and satisfying reading experience. In fact, after all the Appendices, Martin / Spectra give you sixteen pages of 'A Dance With Dragons'. And while I've never been a fan of this device -- it reminds me too much of "scenes from next week's episode of..." -- I can guess that the majority of Martin-starved fans will be thrilled. We'll all be even more thrilled if 'A Dance With Dragons' shows up in a timely manner next year.


...and fire, perhaps?
Readers will have no such problems with Steven Erikson's 'Memories of Ice'. That's because there's been such a long delay getting these books published in the US, that though we're on Book Three now, there are at least five honkin' volumes out at this moment in the UK, with a sixth planned to follow early next year. Moreover, Erikson takes a more discrete approach with each novel, trying to make them more of a standalone reading experience. They also have a much different feel than the Martin books. And that makes both sets better.

Martin is a murky in his politics and his characters are all shades of gray and black. But Martin's world -- beyond the politics -- is pretty straightforward. Erikson is on the other hand, very murky indeed. Armies of the dead, armies of the living, a world shot through with supernatural monsters and entities. Moreover, readers who want to get to know Erikson'd world can get a nice little slice in his novellas, -- 'Blood Follows' and 'The Healthy Dead', done both for PS Publishing and soon to come from Night Shade Books.

'Memories of Ice' fires off as the continent of Genabackis has given birth to the Pannion Domin, the kind of empire that devoirs those who dont heed the word of its prophet, the Pannion Domin. Yes, there are those who stand in the way, and you'll even get a gander at Baucehlain from 'Blood Follows'. To my mind, to get the feel of these books, you take the sort of complex weave of Martin's world and add a bit of Lovecraftian otherworld to the back end conceptualization.

And heck, that's a lot of book for only fifteen bucks in trade paperback. I've photographed it sitting next to the Martin hardcover so you can see how generous Tor was here. For those like myself who want it all and want it now, you can get the Erikson in hardcover. Reader Chris McClelland reminds me that you're likely to have to special order it, or search for it in a specialty bookstore. It will certainly be worth the search.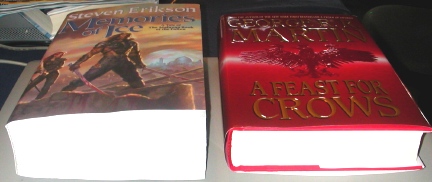 Big fat ol' books. Gots to love 'em!


They've done a fine job, and so has Bantam; the Martin is a very nicely put together book. So for a cost of less than a hundred and ten bucks, you can pick up a hardcover version and a trade paperback of Erickson's novel, and two copies of Martin's and put them in your ForeverWare Containers and then read the second TPB and second Martin hardcover. Say, ten years from now when they produce them for the big screen, you'll be sitting pretty.

And in the interim, between Martin and Erikson, you'll have a feast of fantastically high-quality fantasy reading to devour. These are boom times for fantasy, so get while the getting is good. Pick up those Night Shade and PS Publishing editions. If the horror boom of the eighties taught us anything, it was that these good times are not likely to last.