Hill House Still Rules OK

You can buy the Gods and their abode.
So, yes, there are still things out there that can amaze me, knock me off my feet, strike me mute.

Me, mute?

Well, yep. Here's a guy who can pop out a thousand words about leading (rhymes with bedding) and yet a simple book can shut me up for months.

Of course, as my son put it, "What, are there spells in there, dad?"

Well yes there are son. Spells and a whole lot more. (Note, he's not a cute little tyke any more. He's a 19-year old student in art school.)

I'm talking about the Hill House ultra-limited, lettered editions. Yes, I've raved about Hill House in the past, from the moment I first bought one of 'em. And I frankly thought that you couldn't improve on their product, you couldn't find something better, more beautiful than a Hill House Limited edition.

Leave it to Hill House to outdo themselves. Because I am the luckiest guy in the entire universe, I got a gander at a couple of the Hill House ultra-limited (lettered) editions, and I have to say that awe just doesn't cut it, for a couple of reasons. Now, some of these reasons are on the jaw-dropping drooling side of the equation. You've glanced at the piccies here, you can grok that the physical presence of these books is flat-out amazing. I'll go into some amount of gory, obsessive detail in the fullness of time.

But there are some rather practical matters that are almost as important. Yes, they come in a box that looks like something Pandora might have mail-ordered. But the Hill House super-duper limited editions also pack in a few important bits that will improve the actual mental process of reading the damn books. Yes, those improvements are delivered like jewels in velvet. Literally. But what matters is the pleasure they will add to the reading experience of your oh-so-lucky-as-all-get-out-of-here recipient is indefinable, unrelated to the imposing physical presence. Books are, in the most basic sense, IP. What Hill House delivers knocks you upside the head both physically and intellectually, which is really what you want, right?

Yes it is, trust me.

Let's open up the door, then, and cast a few spells.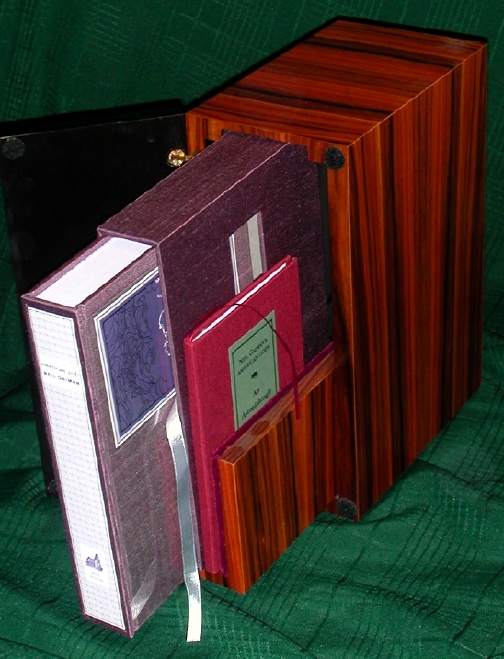 "Dad, what's in there, spells?" Yep. Definitely.


What we're talking about here are the apexes of desirability. Yes there are two. But let's start with the main reason to buy, say, Hill House's ultra-limited edition of 'American Gods'. That would be that owning it will give you insight into his other works that you just wont find otherwise. In particular, should you wish to get something of an inside line on the utterly sublime 'Anansi Boys', then you'll need to pick up this edition of 'American Gods'.

Inside that spectacular box, you'll find a slim volume of invaluable information. It's titled 'Only the Gods Are Real: A Guide to the Gods in Neil Gaiman's AMERICAN GODS'. Author Renata Sancken has gone through the WM Morrow edition of 'American Gods' and pulled out every God that Gaiman mentions (and some only suggested) and described that God. This includes the titular character of 'Anansi Boys' as well as other critters and creators that show up in that volume. She includes page references and extensive references to her sources, which include web pages as well as books. It's the perfect sidecar for those who want to tuck into the extended edition of 'American Gods' that comes in that honkin' box. Turn the little book over and you get Neil Gaiman's bibliography for 'American Gods', which is a wonderful article written by Gaiman about the books that he consulted when creating this novel.

Between the two there's an exponential effect when it comes to immersing one's self in Gaiman's novels; not just 'American Gods' but 'Anansi Boys' as well. They're the literary equivalent of a flashlight that you can shine about while reading Gaiman's work. Not so much light as to spoil the shadows. Just enough in fact to cast the kind of shadows that will make Gaiman's story sharper, more enjoyable.

Of course there is the incredible BOX. While it's certainly extraneous to the reading process, a lot of us just love owning books, and the nicer the presentation, well, the nicer the book. You can't get much nicer than the slab o' marble and the velvet tracks that hold this edition of 'American Gods'. Should you give this gift to someone you love (including yourself), be forewarned that it weighs in at some 30 or 40 pounds. It's beautifully engineered and even goes so far as to include maintenance instructions for the box.

Of course, while Hill House produces limited editions, they put no limits on their own work. So it's not just Neil Gaiman who gets the deluxe treatment. If your SF&F fan is of amore traditional nature, you can do no better than their lettered version of Ray Bradbury's 'The Cat's Pajamas'. This lives up to its name with nothing less than an original, framed, signed print from Ray Bradbury himself. The box is the same gorgeous green silk as the cover and the book includes five extra short stories. I've often spoken about the Hill House books as works of art; here's one case where they actually in fact are hangable works of art. Sublime.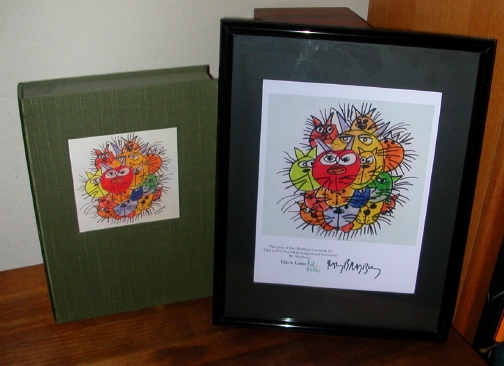 The Cat's Pajama's -- and their signed print!

And whats more, this is sublime you can buy, sublime you can give to one of those rare, weird strange people who know just how important books are; more conveniently, they're on sale from the Hill House Website. Long, long ago, I popped for a limited, lettered edition of Stephen King's 'Skeleton Crew' from Scream/Press, which was in terms of beautiful design and deluxe presentation, the Hill House of its time. Though Scream/Press is no longer around, that book still is and it's still gorgeous and entrancing. It takes me straight back to the place and time where I read it, when I first bought it. The memories associated with this, the mixed up mélange of what I read and where I was, what was happening in my life at the time and how I felt about it, what the stories said to me and what I took from them back into my real life, all of those bricks in the wall -- the feelings have grown over the years, not diminished. I almost let it get away, and every day I see it on my shelf I'm glad I didn't. Dont miss out. Dont let anything like this get away. Let yourself be amazed.