The Minotaur Talks, You Listen

Kleffel! Where the hell have you been, you LOUT! Get to work, damn it!
Before I launch into today's exhortation, I'd like to mention that yes, I've been rather ill with a completely ordinary and run-of-the-mill flu. But in the words of the Doc in John Carpenter's The Thing, "I'm all better now."

This may be the only news update I do this week, because I want to use this in-between time to get some new stuff up and running, and I've got to prepare the site for next year. New "06-news" directories and everything! Stop me or I'll turn this site in on itself, and write about nothing but updating the site. Today I'm typing today's update. However, as new titles arrive, I may not be able to hold myself back and I will be doing the Rolling Shelves. In fact, theyve completely overflowed, and as soon as the college-age child wakes, I'll reveal to you the rest of this PS bonanza. Utterly mind-boggling.

But I just can't hold my tongue about this one, so all my protests may be for naught. Jeffrey Ford should be well-known to my readers. Well, he's well-known to me at least, though I suppose that's more based on anticipation than actuality. That is, since I read 'The Portrait of Mrs. Charbuque' early on in the creation of this website, I've been slavering away to have more work from this important writer. His follow-up novel (as I see it, at least) only came earlier this year, and 'The Girl in the Glass' is easily one of this year's best. (Yes, there will be a list; please be patient. I dont hold to no "Year's Best" list making before the damn year is up. How silly!)

But between 'The Girl and the Glass' and 'The Portrait of Mrs. Charbuque', it's easy to think that Ford is a slightly odd but mostly mainstream novelist. Those books are outstanding examples of accessible writing, and to my mind perfectly suited for the bestseller lists. More fool to the booksellers who managed not to promote the living heck out of these! If ever there was a book guaranteed to bring back a customer with thanks, it was 'The Girl in the Glass'. So, OK, great, easy-to-get-into stuff. But that's not all the Ford has done by any means.

Ford started out with 'The Physiognomy', which, while excellently written and pretty accessible, is undeniably odd. A strange mixture of cruelty and fantasy, science and satire, fiction and meta-fiction, 'The Phsyiognomy' is most importantly utterly unique -- outside of the sequels Ford wrote, 'Memoranda' and 'The Beyond' there's nothing like it for a mixture of clean contemporary prose and bizarre flights of imagination. And foolish me, I thought Ford wouldn't be going back to that style. But with 'The Cosmology of the Wider World' (PS Publishing ; July 31, 2005 ; £10.00 TPB / £25.00 HC), Ford once again whisks readers from the workaday world into the utterly strange. And he returns to the themes of his earlier works; the worlds that we construct in our minds, the ways in which the rules of our own logic trap us.

Belius is the minotaur born to a shocked farm couple. He's intelligent, thoughtful, half-bull and half-human. Sitting in his refuge in the coral tower, ensconced in an other-dimensional netherworld, he's a philosophical sort who is writing his masterwork 'The Cosmology of the Wider World'. But alas, he's having some problems in his creation, because he can't write effectively about what's outside until he comes to terms with what's inside; that is, his own Halfling nature. Conversations with his talking animal friends, Vashti the Owl and Pezimote, the tortoise may help matters or may make them worse. And you've only got 173 pages of gorgeously printed PS publishing novella to find out what's what and why.

Oh how we love the novella, and oh how we love it even more when it's Jeffrey Ford being, really, really weird. Why publishers in the US aren't falling over themselves trying to publish this and the rest of the PS novella line is beyond me. In our time-compressed culture, where we're bombarded with messages that reading is on the decline, it seems to me that the novella offers the perfect solution. These are totally adult books for adults and fully-realized works of fiction, just slightly shorter than your average novel. Damn, were I at one of the major houses, I'd be all over these and popping out novellas as fast as possible. Especially when they're by writers like Ford who is utterly charming and reads so easily, yet provides so much pleasure per word. Well, at least PS is here to fill in the gap that short-sightedness, marketing research and bookseller feedback leave wide open. All hail! Run, dont walk. Etc.

So, in case youre wondering that is NOT the work of Gahan Wilson on the front cover. The cover is by Kim Deitch, and it's very nice and quite appropriate to the tone that Ford strikes. (And there could be so much more; see the interview below!) I guess I'll have to scan the whole damn cover and show you the back, with all the books in the bookshelf. Or not. Suffice it to say that some very recognizable name and titles are there. The introduction by Jeff VanderMeer is every bit as perceptive and non-spoilerish as you could hope for. Definitely read it beforehand and you'll be glad you did. I emailed Jeffrey Ford and asked him a couple of questions about this book, and he was kind enough and quick enough to email me back before the deadline.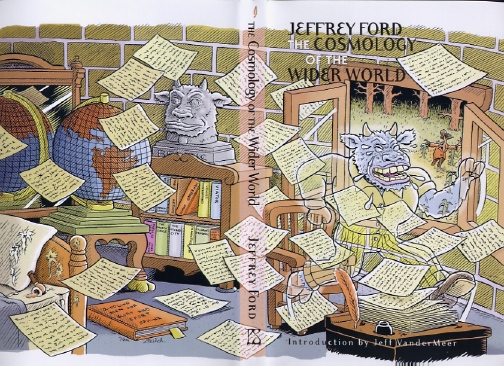 Still can't read those book titles; click on the image and pop up the big version for more fun than you can handle. Names you'd exepct and some you might not.

RK: This piece seems very much in the mold of 'The Phsyiognomy'. Is the world you create in any way contiguous with that of the earlier work?

JF: Rick, Id say that it is like The Physiognomy in that it was completely confabulated by way of the imagination and does not rely on historical research as The Girl in the Glass and Mrs. Charbuque did. In my mind, the writing in it is different than in The Physiognomy. Its a bit more lush in the Wider World parts and quite a bit less laced with irony than is Cleys perspective. Of course, Im probably the last person to have an insightful opinion about this. There are connections to The Physiognomy through my first novel Vanitas. A character from that early book by the name of Scarfinati is mentioned in The Cosmology and also plays a sizeable part in the latter two novels of the trilogy (Memoranda & The Beyond).

RK: You seem very fascinated with the mental worlds that we construct for ourselves. Any particular reason why?

JF: It might be because thats where fiction and life are the same. As much as we like to call it Reality, we live every day in a mental world of our own construction, built with our assumptions, beliefs, superstitions, hopes and desires. Fiction is other mental worlds we have constructed in order to explore possibilities and to give form to our ideas and feelings.

RK: Will there be a US edition of this?

JF: I dont really know about this yet. We havent tried to sell it over here yet, and the phones not exactly ringing off the hook, but who knows what the future will bring? Kim Deitch, who did the wonderful cover for the book, has told me he would possibly be interested in doing a fully illustrated version of it if we could get some decent dough for it. That would be interesting. Theres another part, of equal length, completed that PS might be publishing next year, and there is a third part that Ive done some work on but not finished yet.

RK: As a writer, you cover a wide range of subjects from the ultra-accessible (and sellable) spiritual con-men of 'Girl in the Glass' to the rather outre visions in Cosmology. Do you get some sort of writing whiplash from one to the other? And what's next?

JF: No, I enjoy switching styles, moving from one type of story to another. Id get bored if I was writing the same type of story in the same style over and over again. As a writer I always want to be learning more about writing. Some writers see fiction that is not like their own and condemn it because of that. I try to see whats good in it, what I like, what devices I can learn or techniques of style I can exploit or explore. This can perhaps be viewed as a detriment in that readers very often want you to stay in a fixed location. Im sure there are quite a few writers who, for fear of tarnishing their "image," would never attempt a talking animal book. You know, theyre just too constantly profound. Luckily, I cant take myself that seriously.

As for whats coming up. I have a collection, The Empire of Ice Cream, coming out from Golden Gryphon – 14 stories and a new novella. My story, "The Boatmans Holiday," will appear in Years Best Fantasy and Horror #19 edited by Datlow, Grant & Link, and another of the year end best of anthologies I cant mention yet. "Bright Morning," will be appearing in a slipstream anthology edited by James Patrick Kelly and John Kessel from Tachyon (cant recall the title right now but its going to be really great). Ill have a story, "The White Man," in the new Omnidawn anthology, a story "The Dreaming Wind," in Datlow and Windlings upcoming Coyote Road anthology (YA), and a science fiction story of sorts, "The Dismantled Invention of Fate," in a science fiction YA anthology. Im presently working on a new novel, tentatively titled The Drowned Life, but cant say anything more about it just yet.