Casual, Razor Blade Fridays

You know, it's just sort of becoming an unofficial tradition, here at the Agony Column. It just seems that the publishers line things up so that we start the week on the serious side with a compelling but nonetheless non-fiction tome along the lines of 'The Divided Ground' by Alan Taylor, and we end the week up with a sort of casual Friday feel brought to you by no less a set of luminaries than Joe R. Lansdale and Subterranean Press. And this Friday, what a treat. A trip down memory lane for some of us, back to the good old days of the 1980's when small press publisher Dark Harvest cut a swath of terror across the horror landscape by publishing the uncut version of Joe R. Lansdale's 'The Nightrunners'.

But let me explain, at least to the best of my own destroyed memory.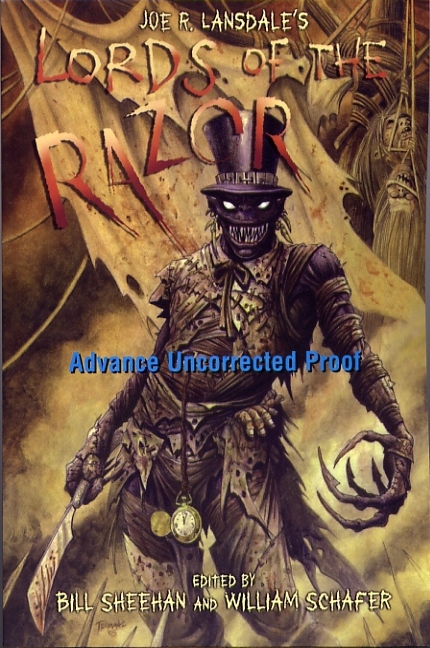 A big pitchur.


Lansdale was new to me at least back then, and his combination of extreme violence, great prose and humor was a dark revelation. He was one of the original writers who helped supercharge the horror genre. I remember picking up the paperback copy of 'The Nightrunners' the novel that grew from a short story seed titled 'The Lord of the Razor'. Lansdale's creation was a coal-black icon, a reverse diamond at the center of the genre. The violence that he portrayed seemed gritty and real and his supernatural terrors seemed particularly everyday and believable. There was more than a scent of the forbidden lurking about his gripping, over-the-top fiction.

But when these books are born, we never really know what will happen to them. Who would have guessed that 'Lord of the Razor' would reach the ripe old age of 21, old enough to drink in California, fercrissakes?

Or that it would bear children at such a tender/old age? Well it has some yard apes now, tearing up the lawn and making an awful racket in 'Lords of the Razor' (Subterranean Press ; May, 2006 ; $100). If that one-hundred buck price is stopping your beating heart, cut the wussy behavior, OK? Back in the day, we shelled out a hundred bucks in a soon-to-be-stilled heartbeat for this kind of Lansdale action. No, I don't remember what I paid for my Dark Harvest copy of the 'The Nightrunners'. But if I dropped a Franklin on it, I'd not be a bit surprised, and it's proved to be one hell of a good investment. Twenty damn years later, my brain is still warped as hell and I've only got Lansdale himself to thank for it.


Glen Chadbourne's illustration for Ardath Mayer's 'The Edge'.
When I interviewed Lansdale back a couple, three years ago, he was one of the nicest men I've ever met. He was genuinely warm, patient, smart, self-deprecating...and thus you'd quickly understand how incredibly talented he must be to be able to reach into himself like that and pullout the tarry hells that he creates. And he does it so effortlessly that you don't notice how hard-as-nails goddamned great it all is. You think you're going out for a good time, a Saturday night on the town with the good ol' boys, not setting down to a big batch of litrachur. But there you go, litrachur it is. It's just a bit on the bloody side.

So the kids, right? You want to know all about the Children of the Razor. Well, here's the deal. The anthology is simply a collection of stories about the titular Lord of the Razor, ushered into this world grinning and dripping some twenty-plus years ago by hisownself Joe R. Lansdale. The collection is bookended by the one, the original 'Lord of the Razor' and a new novella, 'King of Shadows' by, well, a man who could rightfully claim that title himself, Lansdale. In between there are eleven other stories by a variety of writers from then and now. From then: Chet Williamson, Gary A. Braunbeck, Ardath Mayer, Elizabeth Massie, Stephen Gallagher, Thomas Tessier, Hugh B. Cave, P. D. Cacek. Now, Tim Lebbon, Bradley Denton, Christother Golden. Shoot me if you disagree with this then and now division, OK? Or better yet, someone else. Whatever, you've got the author list, and you've clearly got nothing but good, if bloody, awful and occasionally funny times ahead. Add to that knockout illustrations by Glen Chadbourne. Grab yourself a beer and a pair of those white Demo reading gloves, because, after all, it is twenty years later. You may not have grown up, but you've probably learned a lesson or two in the intervening years.

Well, like as not you've not learned jack in those intervening years, but what the hell. You've got the gloves, right? Right? So get crackin' and order this sucker up. Back of the ARC says that there are only five hundred of these out there and I think probably five hundred of you sick SOBs who were driving up the prices back then have weathered the years, right? I dunno, and I sit down, I read something like "Jeaves and the Deteriorating Relations" by Williamson, and I think back to Williamson's Dark Harvest novel, 'Dreamthorp', where I first encountered the memorable image of someone with his intestines nailed to a tree, running around that tree to his (the character's) detriment, and I think, "Damn, we've all aged pretty well, eh?"

I'm hoisting a beer as you read this, and I hope you will to. Here's to Joe R. Lansdale. Twenty more years of razor-sharp humor. Those cuts will heal.

Or not.