Mark V. Ziesing, Ken Lopez and Sawtooth Books Make Offers You Cannot Refuse

The latest from Ken Lopez.
Books don't just materialize out of thin air. You can either trudge out across the tundra, mile after mile, to buy them, in the frozen hell of a chain bookstore, should you be inclined towards eternal damnation or have one of those handy self-cleaning consciences. You can hop on your bicycle and it becomes a sunny day, chasing the clouds away, and ride to your local independent bookseller and buy local support local and hope that the owner's children are thus less likely to be inclined to toilet paper your house on Halloween evening.

Or you can go to your mailbox and pick up this week's deliveries from any one of a number of catalogues. The thing about book catalogues for book lovers is that they make great reading themselves. Yes, we love to read the latest mind-bogglingly good and funny Richard Ford novel, 'The Lay of the Land' ; 'tis to die for, such reading. But we're complicated people, book lovers. Some folks read a Land's End Catalogue and look at sweaters; some read Sharper Image and look at gizmos; some read Orion Telescopes in hopes they might see stars; and some of us read Mark V. Ziesing, Sawtooth Books and Ken Lopez. Keep them around and pet them even if we can't afford to buy everything we want. In fact, it would be bad if we could buy everything we wanted. The idea is that within them, we can discover just what it is we do want and precisely how much in terms of dollars, we want it.


Great front cover and inside of the latest Ziesing. Easy to read reading about reading.

Now, these three catalogues cover a rather wide variety of styles and books. Let's start with the Mark V. Ziesing catalogue. I've flogged his stuff a bazillion times here, so perhaps this is superfluous, but Ziesing is to me the Zenith of a certain type of catalogue. He features largely new books, that is recently published. Just out. What Ziesing offers is a very entertaining and wide-ranging selection of eclectic titles. You get imports, small press, big press, limiteds, pamphlets, chapbooks, the whole range in these terms. And you also get a wide variety of literature. Ziesing trends towards genre and science fiction, but he includes lots of literary fiction, lots of very oddball non-fiction and best of all titles you are not likely to see featured anywhere else. Mark's catalogue is printed in B&W and includes lots of cover shots of the books. This issue, for example, 201, includes Dominic Peloso's 'Adopted Son' from Invisible College Press in Arlington, a trade paperback at $15.95; it's a novel of the near future about children being born who aren't quite human. It sounds beguilingly intriguing. On the same page, 'Special Topics in Calamity Physics' the super-hot, can't miss it if you want to new novel by Marisha Pessl. And that's just where it falls open naturally. You buy a book from Mark, he'll send you that catalogue and it is better reading than most magazines. Mark's take on books is funny and he's not always enamored of everything he carries. His stuff is most amusing and to my mind, one must buy stuff from him. If you need expensive collector's items, he's got 'em listed in small print at the back of the catalogue. Beware! You'll spend a lot of money once you start squinting. The small print is your preventive friend. You can call up Mark at this number: 530-474-1580, visit his website here, or email him at ziesingbooks@frontiernet.net.


Danger Will Robinson! Danger!
George Baker runs a little shop called Sawtooth Books, and he's just released Catalogue 55. It's pretty bare bones in terms of what you get in the catalogue; 12 pages, 262 items, individually listed and described. It is an interim catalogue, and he often ships stuff that is perilously long. That said they are a pretty choice 262 items and they're mostly new arrivals. How about a signed UK first of Peter Ackroyd's 'First Light' for only fifty bucks? Dangerous, if you ask me, to the fifty bucks you were going to spend on groceries. Oh well, you ate Ramen in college, what's the diff now if you feed your high-school kid Ramen? It's not like he's growing up and it's better than the Taco Smell he'd probably buy if you tried to feed him something decent. Or a signed first edition of Chuck Palahniuk's 'Invisible Monsters' (TPB) for a mere $125. Ladies, are you reading this? Your husband is sending you a message when he emailed you this URL. Trust me. Sawtooth offers a literary and non-fiction oriented selection with lots of very valuable and to-die-for titles that will make you ask, "New transmission for the station wagon or Cormac McCarthy?" I just hope that you have good public transportation where you live, or that you work at home. You can visit the Sawtooth Books website, and don't blame me for what happens when you go there. You can call up Mr Baker at 208-426-0661, or email sawtoothbooks@cableone.net.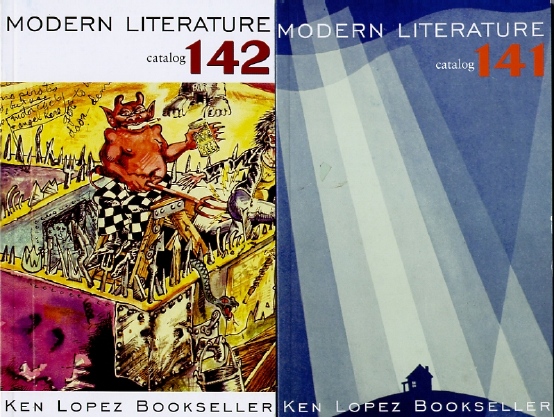 You know you want these. Well either these or the cars you own.


And finally Ken Lopez, of Ken Lopez Bookseller. These catalogues are, not to put too fine a point on it, pure porn for book people. The catalogues themselves are gorgeous and printed on heavy stock that is finer than most magazines and many trade paperback books. Each catalogue includes several pages of color plates that will show you pictures of titles you've only ever dreamed of seeing. The book descriptions are thorough and complete. The prices trend towards the astronomical, but then so does the selection. Faulker, Steinbeck, Harper Lee, Nabokov...be still my beating heart. But Lopez is not exclusively a domain of the insanely expensive. Sure, you can pick up 'The Grapes of Wrath' for a cool $15K, but you can also find Robert Stone's 'Dog Soldiers' for a mere $300. (The latter mentioned to me by no less stellar a talent than Richard Ford, whose work is also available at less-than-tragic prices.) Lopez really puts on the show here, and you'd best be willing to buy something to get these catalogues. It's worth it. His latest features Native American Literature, with an introduction by Gerald Vizenor, lots of color plates and lots of books that aare fascinating simply to read about. It would make a remarkable magazine with as I mentioned before, production qualities that would give a retail cost of $15-$20, minimum, and it would be worth it. You can reach Ken Lopez at his website, you can call him at 413-584-4827, or email him via klopez@well.com. It is so worth it.

And the point of this little article is NOT the vendor's websites. It is the hardcopy catalogues that these guys send out. You can look at them anywhere, carry them with you and loan them to people. These are catalogue to sell books that make great reading in themselves. If you love books and reading about books then you don't want to do so only when seated in front of the computer. These catalogues offer a lot of joyful reading about reading; it's a recursion that we could all stand to experience more often.