Welcome to the Agony Column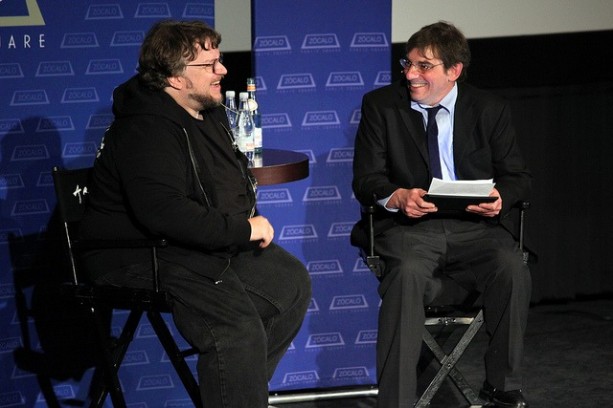 Guillermo Del Toro speaks to Rick Kleffel for an audience at the Arclight Cinerama Dome in Hollywood


First published in January 2002, the Agony Column, edited by Rick Kleffel, is a website and podcast dedicted to examining and exploring literature, culture, politics and lanugage, with a focus on books, authors and culture worth my listeners and readers valuable time. We explore without expectations or boundaries. Here are some highlights from The Agony Column.


"He took down the great book in which, day by day, he filed the agony columns of the various London journals. "Dear me!" said he, turning over the pages, "what a chorus of groans, cries, and bleatings! What a rag-bag of singular happenings! But surely the most valuable hunting-ground that ever was given to a student of the unusual!"
Sir Arthur Conan Doyle, Sherlock Holmes, The Adventure of the Red Circle

Accolades for The Agony Column


C. J. Box: "It was a real pleasure to meet you and your review is brilliantly written.
Mollie Katzen: "Rick Kleffel gets 5 stars in my Michelin Interviewer Guide."
Margaret Atwood: "...one of the best-ever interviewers..."
Steven Naifeh: "I've sent your review to several people at the Van Gogh Museum. We've had a lot of good reviews, but very few that helped us see our own work — and our working methods — in a new way the way yours did."
Siobhan Fallon: "DO try to talk to Rick Kleffel of Agony Column; he has the most amazing radio voice, asks really insightful questions that make you sound smarter and more thoughtful than you actually are, and he's fun."

Updated three to five times per week with new reviews and interviews, covering all types of literature; fiction, non-fiction, genre fiction, with in-depth reviews, insightful interviews and news features.

Feature Interviews
Full-length feature interviews with world-class writers including Richard Ford, John Irving, Margaret Atwood, Salman Rushdie [part 1, part 2], Guillermo Del Toro, Carlos Ruiz Zafon, T. C. Boyle, Sue Grafton, Erik Larson, Lawrence Lessig, Thomas Frank, Billy Collins, Anne Rice, Jennifer Egan, a panel discussion with Michael Pollan, Mollie Katzen and Ann Vileisis, [Part 1 and Part 2] and more.

Book Reviews
In-depth book reviews archived and cross-referenced by genre to enhance expansive browsing. Feature reviews include C. J. Box, Force of Nature, Steven Naifeh and Gregory White Smith, Van Gogh: The Life, and Lunatics, by Dave Barry and Alan Zweibel. Here is a link to the Review Archive.

NPR Features
As a reporter for National Public Radio, Rick Kleffel created the First Books Series, a look at the authors of first books and how they managed to get published. Rick has also done other work for National Public Radio, here's a link to the complete list.
Video Interviews at LACMA and the Cinerama Dome Arclight Theaters
For Zócalo Public Square, I have conducted live interviews with authors on-stage for a paying audience.

Here is a link to my appearance with Carlos Ruiz Zafón at LACMA.

Here is a link to my appearance with Guillermo Del Toro at the Cinerama Dome Arclight Theater in Hollywood.
Four minute NPR-style Reports on authors to preview upcoming feature interviews and shows, these appear once weekly on the website on Tuesdays. They are ready for radio broadcast on the Friday before the show airs; we are currently on Episode 109. Entries include Richard Ford Canada, John Irving, In One Person, Marika Blossfeldt Essential Nourishment: Recipes from My Estonian Farm, David Vann Dirt, T. M. Luhrman When God Talks Back, William Landay Defending Jacob, and Anne Rice The Wolf Gift.