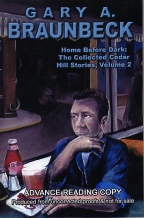 Gary A Braunbeck
Home Before Dark The Collected Cedar Hill Stories Vol.2
Reviewed by: Mario Guslandi 2005

Earthling Publications
Hardcover
ISBN 0-9766339-0-6
429 pages, $ 45
Publication date: September 2005
Date reviewed: October 15, 2005
Index: Horror Fantasy General Fiction Mystery

Anyone familiar with Gary A Braunbeck's work knows that a good portion of his short stories takes place in the fictional Ohio small town of Cedar Hill. 'Home Before Dark' is the second Earthling collection assembling Braunbeck's Cedar Hill stories, following the first volume, entitled 'Graveyard People'.

Anyone familiar with Gary A Braunbeck's work knows he's an extraordinary author of dark literature, not just dark fiction. It was high time to put together his tales. Scattered in a number of genre magazines and anthologies or in the mythical, but long out of print Cemetery Dance collection 'Things Left Behind' (of which I'm a proud and lucky owner), Braunbeck deserves a comprehensive collection like these volumes from Earthling.

Now don't get me wrong. When I say that Braunbeck's opus is literature I don't mean that everything he writes is worth being worshipped and saved for the posterity. After all, even the giants of literature have not been producing masterpieces every other day and the great Homer himself is known to have been dozing off more than once. So some of the stories included in this volume (a few of which originally featured also in 'Things Left Behind') are far from faultless; such as 'Summer', about a redskin saxophone player and his inner demons, the obsessive 'After the Elephant Ballet' and the ambitious ' Kiss of the Mudman', where the writer tries to blend different fictional elements that really don't fit together. Oddly enough, as in the atypical detective story ' The Friendless Bodies of Unburied Men', it's the supernatural element which stands out like a foreign body in a splendid mainstream narrative structure.

Mind you, the weaker stories in this book remain definitely superior to the average dark fiction currently appearing in magazines and books, so it's easy to understand that the better pieces are simply outstanding and, predictably and fortunately, they represent the bulk of the present volume.

Superb examples are 'Afterthoughts' , a lyric, flimsy tale set in a laundromat at 2 am, conveying a deep feeling of life's loneliness, 'The Box Man', providing upsetting evidence of how fate maintains its hold over our existence, 'Duty' a masterful depiction of the events taking place at the deathbed of an old woman and 'Rami Temporalis' portraying the curse of possessing "a missing section of God's face".

Braunbeck's favorite topics probe the very essence of the human condition: the burden of the past, conditioning our present and future, the frailty of life, the solitude of our existence, the mystery of death. Thus, in 'Just Out of Reach,' a reluctant father-to-be, wary of becoming yet another family man, is torn between the past and glimpses of the future. In 'Palimpsest Day' a man and his Down-syndrome afflicted sister are the victims of a past that might have gone differently. In 'That and the Rain,' a fallen angel has to deal with the foolishness and inadequacy of the human race.

Another recurring theme in Braunbeck's work is violence that he describes with a kind of detached eye as an unavoidable component of our lives. Splendid examples are 'Within a Dark Wood', facing the issue of domestic violence as a shameful legacy passing down from one generation to the next and 'Safe,' the unforgettable masterpiece about a sad mass murderer, a story which was the first, revealing encounter I had with this writer.

Braunbeck's style is crystal-clear, polished but straightforward, and his attitude towards his own characters is that of a deep empathy. He's a poet writing dark prose, singing the melancholy of human life.

This is a splendid collection that you shouldn't miss, and praise to Paul Miller's Earthling Publications not only for publishing the book but also for producing a very elegant, attractive, perfect volume.