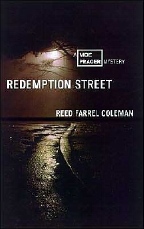 Reed Farrel Coleman
Redemption Street
Reviewed by: Terry D'Auray © 2005

Viking Penguin/The Penguin Group
US Hardcover First
ISBN: 0-670-03291-3
$22.95; 244 Pages
Publication Date: March, 2004
Date Reviewed: April 10, 2005
Index: Mystery

If you're a mystery reader who enjoys narratives that are driven by character and human foible, that blend heart and smart into stories that are credible and authentic but still a little more exciting than your hum-drum everyday life — well, you've found a friend in Coleman's Moe Prager mystery series. Moses Prager was first introduced in 'Walking the Perfect Square' in 2002. 'Redemption Street' is the second, and the newly released 'The James Deans' (Plume/Penguin Group, Trade PBO, $13) is the third in this highly praised but often overlooked mystery series. In fact, the biggest mystery may be why, with four Edgar Award winners (winners, mind you, not just nominees) lauding his writing on the back cover (Michael Connelly, S.J. Rozan, Steve Hamilton and Laura Lippman), Coleman's not more widely read.

Moe Prager is a Jewish ex-cop, forced into retirement by an injury, who co-owns a Manhattan wine shop with his brother and PIs on the side. In 'Walking the Perfect Square', Moe tracks the disappearance of a fellow cop's son Patrick Maloney some 20 years earlier, an apparent cold case that turns out to be nothing of the kind. From 'Walking', a bit of Moe's history unfolds, and he emerges with a wife, Patrick Maloney's sister, and a dark family secret. In 'Redemption Street', Moe once again takes on a cold case, a fire in a Catskills resort hotel that killed dozens of people some fifteen years earlier. Venturing to the Catskills, Moe begins a quest that rekindles his childhood years in the now-decaying borscht-belt resort town of Old Rotterdam, where he confronts skin-heads, Hassidic Jews, and a mysterious Jewish group calling themselves Yellow Stars, along with some irredeemable sins of the past.

Coleman's characters have enough flesh on their bones to be both sympathetic and memorable, but not an ounce of flab. Most memorable of all is Moe Prager himself, a genuinely nice and decent guy who loves his wife and daughter, yet wrestles with a particularly weighty demon from his past. Moe's a hardboiled gem, well aware of the harshness of the world and the cruelties of people and circumstances, but nonetheless compelled to seek the truth, right the wrongs that can be righted and learn to live with those that can't. He can be alternately sympathetic or harsh, insightful or bullheaded, sometimes a tenacious plodder, other times an aggressive provocateur. He gets hit with a fist, and he hits back; he gets wounded by an anti-Semitic slur and tries to slough it off.

Part police procedural, part hardboiled PI, Coleman's story unfolds fast enough to keep the pages turning, but not so quickly as to feel frenetic. Coleman's clean, spare prose packs a lot of punch in but few words. He writes classic hardboiled language, rueful and tough at the same time. "…I'm not in the forgiveness business. As far as I can see, there are no vacancies for you on Redemption Street." His plotting is efficient, but unusual. If you think you know where the story's going, you'll likely be, at best, only partially right. Coleman can throw plot curves along with his fast balls. He'll keep you guessing but he'll leave you satisfied. And he does all this in the confines of but 250 pages or so, a perfect afternoon read. Coleman deserves to be up there with the Parkers and Leonards of the mystery world, a writer well worth searching out.