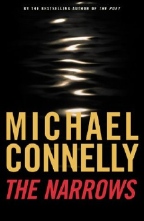 Michael Connelly
The Narrows
Reviewed by: Terry D'Auray © 2005

Little, Brown and Company/Time Warner Books
US Hardcover First
ISBN: 0-316-15530-6
405 Pages; $25.95
Publication Date: May, 2004
Date Reviewed: February 7, 2005
Index: Mystery

Over the course of his fictional writing career, Michael Connelly and his improbably-named protagonist Hieronymous (Harry) Bosch have risen to a level of fame and acclaim nearly equaling that of that other ubiquitous Harry (Potter). Connelly's books regularly climb the charts and his new novels get very specific don't-sell-until release dates. 'The Narrows' was released midst much brouhaha and anticipation, and deliberately without benefit of Advance Reading Copies for fear of pre-publication leaks. It is a "hail, hail, the gang's all here" reunion book uniting Harry Bosch with FBI Agent Rachael Walling and Robert Backus, the infamous serial killer dubbed 'The Poet' from the book of the same name, who maybe-did and maybe-didn't die at the end of that novel. And like all reunions, it's a mixed bag of new insights and old saws better remembered than relived.

'The Narrows' opens when Harry is asked by the widow of Terry McCaleb (from 'Bloodwork' and 'A Darkness More Than Night') to investigate McCaleb's death which she suspects is possible murder. Tackling the case with his usual blend of plain old door-knocking, unglamorous and grinding police work and the tenacity of a junkyard dog, Harry follows a trail of crumbs from McCaleb's boat at Catalina Island to Las Vegas where the FBI is working a mass-murder burial site of victims of crafty serial killer Backus, 'The Poet'. There Bosch meets up with Walling, now an FBI observer, and the two pair up once again to hunt down 'The Poet', using their unique mix of footwork, brainwork and moxy.

Connelly wastes no time in setting the dark, over-arcing theme of 'The Narrows' as a "place where evil waits", the place where evil would "grab at me like an animal and take me down into the black water". But thus thematically established, 'The Narrows' gets off to a slow start - the narrative foundation-building galumphs along as Connelly lays out the pertinent background from three prior books, jumping from first person narration for Harry to third person narration for Rachael and Backus. This brings new readers up to speed with the characters and their pasts. But long-time readers, especially those who have read all three past books (and 'The Narrows' is more enjoyable if you have), can but wait for this new installment to kick in. And the sequel does indeed finally kick in with mounting tension and stomach-churning suspense. Like an aging roller coaster chugging its heart out to make the steep uphill climb, the story suddenly takes hold, and whips and flashes to a masterfully depicted confrontation where plot and metaphor meet, good and evil battle each other, and both good and evil battle the indifferent brutality of nature's "black water".

Connelly is a careful and dexterous plotter, blending the details of realistic, slogging police work and political bureaucracy with fast-paced action and revealing, breath-catching moments of character-defining insight and introspection. Harry has always been a tenacious and tough cop, battling bouts of melancholy and brooding over the callous course of contemporary life. Now retired from the LAPD and much enamored of his newly-found daughter Maddie, Harry has matured and deepened. He's still hard-boiled and melancholy to be sure, but now he is experiencing a deeply compelling emotional connection that is new to him and exceptionally revealing to us. Harry as a parent has taken on a new dimension, one that adds yet another fascinating layer to this already absorbing character.

Unlike his previous novels which basically stuck to their knitting by meshing believable, well-developed characters and superbly rendered LA settings with a finely-tuned plot, Connelly in 'The Narrows' trots out a few new tricks. Moving from first person narration to third is but one of those tricks, which Connelly pulls off admirably until the finale when the rapid pace of the plot makes these switches too jumpy and jarring. While not unusual in Connelly's past books, here he indulges more frequently in clever asides about contemporary events. Multiple references to the Clint Eastwood movie of 'Bloodwork'; a pivotal scene involving Book Carnival, the real mystery bookstore in Orange, California owned by an ex-cop; and a gratuitous reference to his friend, George Pelacanos' pricey collectible book 'Nick's Trip' provide a few amusing moments. But they also break the magic spell, diverting the reader's attention from the absorbing fictional world of the narrative and forcing it back to the world they're likely trying to escape.

Connelly is strutting his stuff with all the confidence of a best-selling writer - maybe, in this case, with a little more strut than stuff. Nonetheless, 'The Narrows' is an exciting action-and character-driven read, believable and compelling. The finale is ominous, gripping and thoroughly satisfying. It leaves Bosch with much fodder for future brooding and leaves Connelly with the set-up for Harry's continuing evolution. While 'The Narrows' is uneven and not Michael Connelly at his best, his fans who, like me, are just wild about Harry, wouldn't want to miss this episode.

Note:

Included with the novel is a companion DVD, 'Blue Neon Night: Michael Connelly's Los Angeles', directed by Terrill Lee Lankford, a tour of the places in LA that give Connelly's Bosch novels so much of their unique atmosphere. It's an interesting pairing, since so much of 'The Narrows' is set in Las Vegas and the Mohave Desert, not Los Angeles.