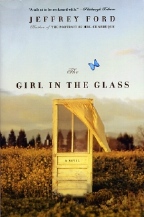 Jeffrey Ford
The Girl in the Glass
Reviewed by: Rick Kleffel © 2005

Dark Alley / Harper Collins
US Trade Paperback First Edition
ISBN 0-060-93619-3
Publication Date: 08-23-2005
286 Pages; $13.95
Date Reviewed: 09-21-05
Index: General Fiction Mystery Horror Fantasy

Jeffrey Ford is that rare author who can provide so many levels of reading pleasure that readers will find themselves setting down a novel of his just to contemplate the joys of reading. Here's a bit of advice as you pick up 'The Girl in the Glass'. Fight the urge to read it in one sitting, in one warm sweet afternoon. Linger with this book, make each chapter you read an event for which you plan carefully. Allow no interruptions and brook no distractions. Be stern with those around you.

This won't be easy. 'The Girl in the Glass' is far too quick to read, far too compelling to put down simply because you've been told to do so. It's genial, filled with the kind of humor that makes you laugh inside and out. It's friendly, good hearted and yet hard-edged when need be. It trusts you and itself fully and implicitly. It respects you and expects you to respect it. No worries there. You'll respect 'The Girl in the Glass', no doubt about it. But to preserve your self-respect, you'll need to exercise some self-discipline. Pace yourself, that's the idea. Make your reading experience of this novel last, because you only get to read this novel for the first time once.

Set in the environs of Long Island during 1932, 'The Girl in the Glass' is narrated by Diego, a seventeen year-old Mexican immigrant who is part of a trio of conmen who stage séances for the rich and the gullible. Led by Thomas Schell, a card-shark, and accompanied by Antony Cleopatra, once the strong man for a defunct carnival, Diego is known as Ondoo, an east Indian mystic. While conducting a session that starts to go awry, Schell sees the image of a young girl in a window. When he later learns that the girl is a real girl who has gone missing, he becomes determined to solve the case.

And that's all you need to know about the plot of 'The Girl in the Glass', because Ford has wrought another brilliant, bewitching novel. Ford effortlessly combines everything that readers want to find in a novel. He offers the perfect density of period detail, meticulously researched but sparingly applied. He's learned that a little bit of knowledge goes a long way, and he uses this to create a transparently clear ambience. Readers will feel immersed in the Long Island Gold Coast locations and the polarized society of the Depression without feeling buried. The parallels between that time and our time emerge naturally. Ford gives readers the feeling that they have an inside edge on the situations he's describing, a natural understanding. He makes the reader feel extra smart and insightful without drawing attention to the fact that he intends to do just that. It's a very accomplished performance.

As with any great novel, great characters make up the heart of 'The Girl in the Glass'. Heart is the operative word here, because Ford invests Ondoo, Schell and Antony with the kind of love that emerges in what we now call "the family that you choose". The fact that they're all conmen, duping the rich, sets up the perfect contrast and keeps things from getting sentimental. Instead, you see the kind of friendship and natural camaraderie that emerges when men join together in battle. There's a lot of rude humor and crude banter that's perfectly suited to three guys eking out a living as spiritual charlatans.

Of course, since this is a period piece and a novel set in a certain sort of underworld, it's filled with lots of fascinating details about phony psychics and their entertaining shenanigans. When Schell and his crew reach out to their friends from the world of Coney Island, Ford finds a vehicle to provide readers with a variety of enchanting and entertaining characters. And on the other side of the equation, he's found some soundly researched and thoroughly chilling villains. Even the briefest appearance seems fully fleshed and filled with life. Across the spectrum, Ford loves all of his characters and readers can't help but respond in kind.

As it happens, what many readers will consider the greatest virtue of this book while they read it -- the page-turning plot -- proves in the end to be something of positive problem, in that by the time you realize how much you want to keep reading this book, you're likely have read far too much already. Suffice it to say that Ford is an expert at cranking up general narrative tension, and he mounts some handsome and gripping scenes of action. The mystery at the heart of the novel is quite well turned, and will keep even the experienced mystery reader guessing long past the point where they'll have expected to know it all. Don't let Ford bait you into reading this novel too swiftly. Take your time, plan for each chapter. If the novel didn't seem so perfectly balanced, you might be tempted to say it was too short. But that's not really the problem; there's certainly enough here. It just that what is here will make you want more.

Perhaps the best thing about 'The Girl in the Glass' is that it is a book you can recommend without hesitation to just about anyone who reads and to many who don't. Readers of all stripes will find something that appeals to them because Ford covers the basics with such ease. Characters you love, mysteries that demand to be solved, places and times chock-a-block with deep emotional appeal. A slow-burning, after-the-last-page-turns series of ruminations that will keep you smiling. Especially if you take your time, read slowly and deliberately, savoring this delightful novel. Read a chapter, then set it down. You only get to read this novel once, something I'm compelled to tell you twice.