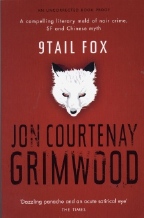 Jon Courtenay Grimwood
9Tail Fox
Reviewed by: Rick Kleffel © 2005

Victor Gollancz / Orion
UK Hardcover First Edition
ISBN 0-575-07615-1
Publication Date: 10-20-2005
326 Pages; £12.99
Date Reviewed: 09-04-05
Index: Mystery General Fiction Horror Science Fiction

It's amazing to experience the strength of any particular writer's style. We often think that style is inextricably linked to content, that writers who specialize in crime develop a prose style that would change were they to write outside the crime genre, or that authors of space opera would write markedly different prose were they to approach crime fiction. And for some writers that might be the case.

It is clearly not the case with Jon Courtenay-Grimwood, as his latest novel '9Tail Fox' demonstrates. Grimwood's previous novels have all been densely imagined science fiction with blends of mystery, alternate history and literary fiction, pretty much unidentifiable hybrids. But they've also been based on intricate back-stories that were not in the text. The 'Arabesque' trilogy for example, took place in a Middle Eastern setting with a deeply detailed alternate history, for all they read like hard-boiled detective novels studded with shards of cyberpunk invention. 'Stamping Butterflies' was an intricately plotted novel of surreal science fiction inter-cut with a day-after-tomorrow thriller. For all of these novels, Grimwood's dense, oblique prose style seemed a natural outgrowth of the extensive and often largely untold back-story. He offered you a high-resolution prose window into a huge world. The pleasure of reading his writing was tied up in that combination of detailed storytelling with an enormous background, and it seemed that the prose style was required in order for him to convey both the story and background. The immense pleasure of getting all that information in a concise novel was the appeal of this unique writer.

From the outside, '9Tail Fox' seems as simple as Grimwood's other novels are complex. Set in current-day San Francisco, '9Tail Fox' begins as Sergeant Bobby Zha of the SFPD is investigating the murder of an intruder in a posh mansion by an eleven-year-old girl. He doesn't buy that the kid did it. Zha is something of an outsider, even though he's been on the force for a long time. He doesn't work well with normal adults, including his on-the-way-up partner, but he does have a way of communicating with kids and the homeless. It's one of the latter that clues him to a crime at a remote warehouse, where Zha is murdered.

This is where the story really starts, as '9Tail Fox' becomes a mystery in which a man must solve his own murder. The story here is completely linear, with only a couple of forays into back-stories that relate directly to the action in the foreground. By and large, Grimwood has written a straight-ahead, gritty police procedural, and by all calculations, one might suspect that Grimwood's prose would somehow reflect this change. Instead, his style thrives on it, offering readers a chance to experience his wonderfully detailed style applied to a real world, here-and-now hard-boiled mystery. The result is a gripping, page-turning story full of grit and gusto, with an imaginative overlay that complicates the mystery in all sorts of satisfying ways.



One of Grimwood's talents is his ability to create likable, flawed characters that remain in your memory long after you finish the novel. '9Tail Fox' is no exception. Sergeant Bobby Zha, Officer Felicidad 'Flic' Valdez, Misha Persikov, Pete Sanchez -- readers will walk away with the entire cast of this novel chattering away in their brains. Zha is the centerpiece here, a good man, but flawed in the classic manner of hard-boiled cops. He's a bit of a loner, his marriage is out-of-sorts, his relationship with his daughter is rocky at best. Pete Sanchez, his partner is younger, cleaner, better, nicer, faster than he is. Apparently. And his new partner, Flic Sanchez, is a wonderfully drawn woman, a rookie cop with nicely shaded depths and a complicated family of her own. Grimwood takes every character well beyond the basics. The same detailed prose that he has used to suggest entire world histories here suggests entire personal histories.

That level of detail is applied to San Francisco as well, with nearly complete success. In the entire novel, there was only one small detail that jarred this reader who has recently spent a fair amount of time in the city by the Bay, and that detail could go either way. Overall, Grimwood perfectly captures the complex ambience of America's most European-seeming city. Herb Caen, the famous columnist for the San Francisco Chronicle had dubbed San Francisco "Baghdad on the Bay", and it's this aspect of the city that Grimwood latches on to so successfully. He spins out the layers of wealth and poverty, of natural beauty and man-made squalor that overlap one another intimately. It's the kind of novel that might be fun to read while one stayed in the city, to visit the places that Grimwood evokes.

Of course, all this atmosphere is in the service of a very straightforward mystery about the murder of a cop. Grimwood plays by the rules with his own complex style. The characters, the settings and the prose blend to make this novel read like a gritty police procedural. The story moves smoothly from one scene to the next, in the sort of step-by-step style of page-turning mysteries. On one hand, you have a no-rocket-science-just-good-story-here mystery.

Of course there is the other hand, the supernatural and even a very minor science-fictional complication. Each of these contributes to make the main mystery even more compelling. Readers will not be able to put the novel down until they find out the how and why of Bobby's Zha's return. But since Grimwood plays everything so close to the ground, so procedurally, none of this seems either precious or out of place. It's simply what's happening. His supernatural elements are grounded in Chinese mythology, with other moments set at the close of World War Two in Leningrad. And Grimwood gets some fantastic character moments out of his imaginative return as well, the kind of satisfaction that leaves readers smiling.

So yes, on one hand, with '9Tail Fox', Grimwood has written a straightforward mystery, the kind of novel that readers of his other work might think he simply could not write. But those same readers will be thoroughly satisfied with '9Tail Fox', while an entire group of readers that Grimwood has never reached -- those who enjoy gritty mysteries and pulse-pounding, page-turning novels with a supernatural spin -- may find themselves plunging into the whole new world of Grimwood's fiction. Marketing this novel is going to be a challenge, but don't let anybody's marketing get in your way. Whether they shelve it with mysteries, with horror, with his other science fiction novels or with the literary likes of David Mitchell, comb the shelves and seek it out. Grimwood's gripping mystery is worth the search.