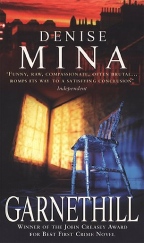 Denise Mina
Garnethill
Reviewed by: Terry D'Auray © 2005

Bantam Books/Transworld Publishers
UK Paperback
ISBN: 0-553-50694-3
445 Pages; £10.50
Publication Date: 1998
Date Reviewed: June 3, 2005
Index: Mystery General Fiction

Garnethill is a section of Glasgow, seedy, run-down, dirty, often gray and ugly, and occasionally dangerous. 'Garnethill', the debut book by now-acclaimed writer Denise Mina, shares the mood and toughness of this Glasgow neighborhood, but little else. It is a character focused crime story with a strong and unique voice and definite feminist attitudes. Mina is often compared to fellow Scotsman Ian Rankin as a practitioner of contemporary Scottish noir; she can also be described as Minette Walters with muscle.

'Garnethill', the first in a trilogy (followed by 'Exile' and 'Resolution'), introduces amateur sleuth Maureen O'Donnell, a victim of childhood sexual abuse, institutionalized for psychiatric problems, who upon her release copes with day-to-day reality and tries simply to stay sane. And sanity is hard to hold on to when you wake up after a drinking binge to find your married lover tied to a chair in your own living room with his throat slit. All the harder when the local cops finger you as the murderer, and harder still when there's a whisper of doubt in your mind about whether you might have had something to do with this killing. Maureen sets out to discover the truth, clear herself with the cops, re-center herself with reality, and along the way uncovers events from the past that are deeply odious and far more insidious.

'Garnethill' is an edgy book — the reader is never quite certain whether Maureen is a believable narrator, never quite certain where her view of events might omit major pieces or enhance others, never certain of who's telling us true and who's not. But as Maureen's story unfolds, as we meet and interact with her family, fellow abuse victims and her friends, we become certain of one thing. Maureen is tough, fierce, empathetic, entirely engrossing and, she's vengeful. One of the strengths of the novel lies in Mina's superb ability to create believable, vital characters. Apart from Maureen herself, we meet her family, a family for which the word dysfunctional is far too light and cheery. Her mother Winnie is the classic self-absorbed, self-serving drunk; her two sisters are classic enablers and avoiders exceptionally busy burying their heads in the sand; her brother Liam is a well-meaning, supportive drug dealer. Together with friend Leslie, a motor cycle riding stalwart helpmate, these characters form an emotionally charged nucleus that run throughout the trilogy.

But it's Mina's ability to portray victims of abuse, to bring to life their ongoing terror and ever so tenuous hold on reality, that forms the core of the novel's appeal. Brutality manifests on two fronts — bloody and violent killing, a crime that can be solved - and the far more debilitating, brain-killing fear faced by abuse victims that engenders perpetual angst. Mina's characters are immensely vulnerable and emotionally tender, and yet, admirably valiant as they fight for survival and sanity.

With language that's seeped in Scottish slang and sometimes crude (though inoffensively so), Maureen and her fellow characters are often mordantly funny. Mina's language can be graphic and tough; it can also be sympathetic and embracing. Above all, it is always honest. Mina's 'Garnethill' won a Creasy award (the UK equivalent of the Edgar) for best first novel back in 1998. She paints a sharp portrait of the reality of abuse and its ongoing consequences and doesn't crop out the ugly parts. 'Garnethill' is dark and bleak but not without hope and its characters linger long after the book has been closed.