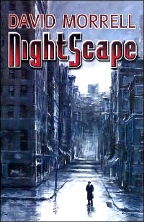 David Morrell
Nightscape
Reviewed by: Mario Guslandi 2005

Subterranean Press
US Hardcover Limited First Edition
ISBN: 1-59606-000-X
240 pages; $35.00
Publication Date: September 1, 2004
Headline / Hodder Stoughton
UK Mass Market Paperback
ISBN: 0-7553-217-X
416 pages; £6.99
Publication Date: April 4, 2005
Date reviewed: 05-09-2005
Index: Horror Mystery Science Fiction General Fiction

A new collection of stories by David Morrell, even if made by reprints only, is always an opportunity to rejoice and celebrate for any fan of good, strong, no-nonsense fiction. 'Nightscape' is no exception, beginning with a splendid 'Introduction' to the volume where Morrell provides a disenchanted but affectionate portrait of his late mother and pinpoints the common ground shared by the main characters in this collection: determination. Determination is indeed the unyielding virtue of Carlos, the faithful adjutant of a south American political leader, who carries out his mission — to preserve at all costs the precious content of a mysterious crate-- with extreme consequences in 'Remains To Be Seen'.

Stubbornness is also the feature of a grieving father ('Nothing Will Hurt You') committed to avenge the murder of his daughter by a cold-blooded serial killer. The author skilfully describes the downward spiral the poor man is getting himself into, pressed on by his desire to make up for his previous inability to protect the girl's life.

The subsequent two stories are far less accomplished. 'Elvis 45', about a university professor's obsession with Elvis Presley's life and music, affords pleasant reading and little else, while 'Habitat' , the script of a teleplay in the 80s TV series "Monsters" seems a bit out of place and doesn't appear as effective as it probably was on the screen.

'Front Man', featuring an aged screenwriter with a successful career behind him, is a powerful, highly entertaining tale about the job of writing, Hollywood's oddities, greed and the fragility of human soul. Endowed with a slightly moralistic undercurrent, it's the type of fiction that makes the reader ponder.

A terminally ill man is kept frozen in the hope that in the future a cure for his disease will become available. That's the starting point of 'Resurrection' , supposedly a SF story, actually a sorrowful, extraordinary piece of fiction about life, death and the frailty of human condition.

'If I Should Die Before I Wake' is a tense, dramatic tale about the influenza outbreak which struck Europe and America in 1918, seen through the eyes of a helpless small town physician. Here Morrell is at his best. Characterization is great and the horror of a disease spreading across the nations and killing people by the millions is rendered with crude effectiveness.

The novelette 'Rio Grande Gothic', an excellent detective story starring a police officer obsessed with shoes, and told with the usual gripping, fascinating narrative style, has previously appeared in Al Sarrantonio's famous anthology '999'. Surprisingly the story has not been turned into a movie so far, although it would make a superb thriller.

But this could be said of most of Morrell's fiction, so vivid are the stories, plausible the plots, the dialogues and the characters and so good the actual storytelling. The hardcover Subterranean Press Edition offers the bonus of an effective cover painting by Les Edwards.