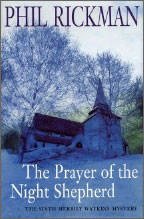 Phil Rickman
The Prayer of the Night Shepherd
Reviewed by: Rick Kleffel © 2005

Pan Macmillan
UK First Edition Hardcover
ISBN 0-333-90806-6
Publication Date: 04-02-2004
535 Pages; £16.99
Date Reviewed: 09-29-05
Index: Mystery General Fiction Horror

Playing with legends is a dangerous business. When you bring Sir Arthur Conan Doyle and the origin of 'The Hound of the Baskervilles' into your novel, you're inviting comparison with an acknowledged master. Phil Rickman is more than up to the challenge, and 'The Prayer of the Night Shepherd' honors Doyle while remaining true to the unusual and unique style of Rickman's previous work. The sixth Merrily Watkins mystery is dense, evocative and beautifully written. Rickman brings so much life to his characters and settings that even though it had been more than two years since I read the previous entry in the series, I quickly found myself enveloped in his rich milieu. This is a book to savor, a book to read slowly and deliberately, so that you can soak up every word. 'The Prayer of the Night Shepherd' remains alive and active in your mind even when you're not reading it. It's a book that is a very specific place you can visit. Once there, you'll not want to leave.

The problems start on the first page, as rural farm owner Jeremy Barrows enlists the aid of failed rock musician and friend Danny Thomas when an outsider's van ends up parked on his property. It seems a small event, the appearance of this rather battered van in the trackless fields. The repercussions will echo across the landscape. Ben Foley, an ex-television producer, is trying to host murder mystery weekends in a Victorian mansion. Foley is out to prove that the mansion he owns is the inspiration for 'The Hound of the Baskervilles'. Digging into the past, disturbing the delicate balance in the present, it's bound to cause ripples.

What unfolds in 'The Prayer of the Night Shepherd' is a complex, layered tale of violent murders, rehabilitation and revenge. Rickman works from the ground up, immersing the reader in the atmosphere of the countryside, in the just-scraping-by lives of his characters. Merrily is trying to create more of a sense of community by starting casual, Sunday evening prayers that rapidly spin out of control as her congregation seeks something more. Every character is perfectly evoked, from the scurrilous small-town thugs who run the chip shops to the stuck-on-themselves television producers who pop in to see if the game is indeed afoot. Working on a wide canvas with a close focus on each individual, Rickman is able to craft for the reader the entire world of Herefordshire. This gives him the ability to create a crime novel of great complexity and vivid reality. Gritty portraits of the rural poor and creeping urban blight give his characters an edge that is subtly disturbing and highly involving.

Rickman's complicated plots are a constant delight. He always likes to evoke a sense of history and here, delving into Doyle's Spiritualist past, he creates a mood of supernatural dread without ever resorting to supernatural explanations. For Rickman, the web of the world, the relationships between the people in the present, their pasts and the landscape they share offer a rich pallet from which to create a very satisfying story. Each thread is full of life, full of threat and filled with tension. Rickman weaves characters, real history and fictional inventions together into a seamless, richly atmospheric whole. There's a feeling of gritty reality shot through with a sense of infinite complexity. Rickman's story is every bit as intricate as anything reality has to offer and beautifully rendered.

One of the great pleasures of reading Rickman' novel is the immersive nature of his prose. He submerges the reader at all levels. The language is rich and just local enough to seep into the reader's unconscious. Whether he's describing a landscape, a character, or delving into history, on a sentence-by-sentence level he draws the reader into the world he is describing. He accents his dense portraits with sly bits of humor and dry wit, setting off the darkness with sparks of light. Merrily Watkins' spiritual concerns offer him a means of observing the world in a numinous manner. Behind everything there seems to be wealth of life, of detail and history. Doyle fans will find that Rickman actually manages to make Doyle's work seem more enjoyable and more complex.

As a series entry, 'The Prayer of the Night Shepherd' is yet another example of Rickman's ability to move his characters' lives forward in an unobtrusive manner. With each novel, he offers enough detail so that the reader can simply jump in to the series at that point. Readers who have been with Merrily Watkins since the first in the series, 'The Wine of Angels', will find this entry particularly rewarding. The people you have come to know are offered the kind of problems that life itself serves up, and they deal with them as best as can be expected. There's a sort of rough-and-ready feel to this book.

Rickman's great talent is that he's able to write about the mystery that is the world we must live in. This is a mystery that unfolds on two levels; every day, we must untangle our complicated lives, and every night, we have to face the darkness. Intuitively, we know that the material world beyond the darkness is no different from that of the daytime hours. But we can populate the darkness with our own hopes, fears and ignorance. As Rickman's characters struggle through his carefully crafted prose landscapes and cleverly conceived crimes, we as readers enjoy the process of putting together the puzzle he presents us with. It's a world as real as our own, filled with people as complex as those we know, caught up, like us, in events, some of which we can control, others of which are well beyond our influence. As you read Rickman's novel, you will experience a rich life, artfully arranged, cunningly written. And realize that your own life is every bit as rich; richer, really because you get to read about them.