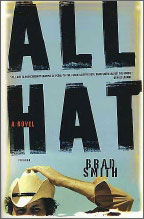 Brad Smith
All Hat
Reviewed by: Terry D'Auray© 2005

Picador/Henry Holt and Company
U.S. Trade Paperback
ISBN: 0-312-42317-9
308 Pgs; $14.00
Publication Date: April, 2004
Date Reviewed: March 28, 2005
Index: Mystery General Fiction

'All Hat' is Canadian author Brad Smith's first US-published novel (he wrote 'One-Eyed Jacks' — now out of print) and it's a zinger — a droll, involving, funny/sad story of little guys outfoxing big guys in the world of Canadian horse-racing, and a finely written story of good people with hard lives and bad luck finding a way to turn the tables.

Ray Dokes, released from prison for attacking Sonny Stanton, the man who raped his sister, moves back to the small town where he grew up. He moves in with his old friend, Texan Pete Culpepper, owner of low-end racehorses and a failing farm. Dokes keeps his head down, working as a roofer, while he watches an unrepentant Sonny Stanton use his money and malevolence to threaten the good-old ways, do damage to some good-old people, and generally wreck havoc with apparent abandon. Dokes' head doesn't stay down for long — he puts it to use to put things right with an ironic plot that involves collusion and craftiness instead of his fists. Although he wouldn't have been dissuaded in the least if fists had to fly.

Smith's novel is an engrossing blend of one part down-and-out cowboy noir and one-part clever con, written in language that's clipped, bordering on terse, and filled with energy and poignancy. He crafts a believable environment, fills it with utterly enthralling characters and with a comfortably meandering pace, pulls off a nifty crime that reaffirms the difference between righteous and legal, and ultimately puts this little world right once again.

Characters rule this novel, each broadly drawn, but down-home and fully believable. Dokes is the quintessential man aimless man, searching for the indefinable something that will make his life right. Culpepper is the world-wise Texan, hard-working, hard-bitten, but genuinely good. Sonny Stanton, on the other hand, is the devil's poster boy — a spoiled, stupid, bullying rich boy who lives in a fog of pharmaceuticals and booze whose first thought is always mean-spirited. Stable hands Dean and Paulie are a mixed pair. Dean's a two-bit punk, described by Culpepper as "all hat and no cattle". Paulie, by contrast, is a simple, hard-working boy who has a unique skill with horses, almost always lead astray by Dean or Stanton.

Smith mixes in a couple of expertly drawn female characters. Etta, Doke's childhood sweetheart, is now caring for her senile father and failing as a farmer. Horse jockey Chrissie is a tough talking, tough living, all-round tough cookie. Bad things keep happening to these good people. Etta's father looses the farm to Stanton in a golf bet. Culpepper's horse, with Chrissie riding, is deliberately fouled in a race and no longer able to run. Paulie is perpetually abused by Dean while doing the work of both. Dokes just can't seem to find his magic key to a satisfying life. And all the while, Sonny Stanton just keeps barreling, bullying and boozing along.

While the good guys and gals in 'All Hat' are never flawlessly good, it's not at all hard to distinguish them from the bad guys. It is hard, though, not to root for them. As these characters slowly take form, the reader looks up to find themselves thoroughly hooked and well on their way to being thoroughly charmed. Smith's novel is deceptively simple, an easy-going, laconic western-style story that packs a punch along with its ultimately affirming finale.