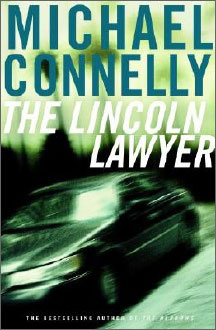 Michael Connelly
The Lincoln Lawyer
Reviewed by: Terry Weyna © 2006

Little, Brown and Company
US Hardcover First Edition
ISBN 0-316-73493-4
404 Pages; $26.95
Publication Date: October 3, 2005
Date Reviewed: May 6, 2006
Warner Books
US Mass Market Paperback Reprint
ISBN 0446616451
Publication Date: July 1, 2006
528 Pages; $7.99
Date Reviewed: May 6, 2006
Index: Mystery

My favorite type of mystery is the legal thriller. But because I'm a lawyer (the truth has been out for awhile, so you can stop throwing those rotten tomatoes), I find few of this sub-genre really satisfying. Too often the plot turns on the lawyer committing an egregiously unethical act, or else committing an act of malpractice that a first-year lawyer would side-step without a thought. That's why I can't bear Perri O'Shaughnessy's Nina O'Reilly books, for instance, and why I greatly admire the more obscure Marianne Wesson ('Chilling Effects'), Rose Connors ('Temporary Sanity') and Sabin Willett ('The Betrayal'). The best legal thriller I've ever read is 'Presumed Innocent' by Scott Turow; I was up until 4:00 a.m. finishing that one.

So I was pretty excited when I heard that Michael Connelly had written a legal thriller, and even more excited when I read reviews suggesting that Connelly had written a doozy of a book with his first try at this sub-genre. Because I love Connelly's work — especially his Harry Bosch novels — and was eager to dive into this experiment by a fellow who usually writes police procedurals, I picked up a signed copy of 'The Lincoln Lawyer' as soon as it came out.

Imagine my disappointment when the first thing we find out about Mick Haller is that he illegally bribes bail bondsmen to steer new clients to him, declaring, "There was nothing about the law that I cherished anymore." Maybe I'm still starry-eyed even after 25 years of practicing law, but this was just too much. I kept reading about this lawyer who practiced out of his Lincoln Town Car as he squeezed money from an incarcerated client by delaying his trial date, through his initial meeting with a "franchise client" (i.e., a client likely to net him a big, big fee). I stopped reading around page 50, and ignored it for six months.

And then, for reasons obscure even to me, I picked it up again. I was amply rewarded for my second try, because this book ultimately reveals that Mick Haller isn't ultimately the unethical creep he makes himself out to be in the first few pages of his story; he is a deeply ethical and idealistic attorney who merely wears a mask of world-weariness. And despite his two divorces, he's not a womanizing jerk, but a man who loves unwisely and too well.

Mick is retained to defend that "franchise client," Louis Ross Roulet, a Beverly Hills playboy charged with the attempted murder of a prostitute. Roulet claims that he was set up, and a videotape from the bar where he met the prostitute seems to point the finger of guilt at another man altogether. The prostitute herself swears up and down that Roulet was the man who tried to strangle her, but her civil suit against him plausibly suggests that this is a shakedown scheme. Mick starts to think he has the ideal case for good headlines and a string of Town Cars when some similarities between this case and another he once handled that resulted in a life sentence for Jesus Mendendez. Menendez was a man who didn't have the big money to mount a complicated defense, who protested his innocence but ultimately pled guilty in order to avoid the death penalty. Mick had felt great about that plea bargain at the time because Menendez had the possibility of parole at some time in the future. But now, Mick begins to realize that Menendez may not have been a murderer, and that Mick simply hadn't realized it; too many years defending guilty men, too many years when avoiding the death penalty was in itself a victory, too many years of manipulating the system had made him so cynical that he couldn't recognize the criminal defense attorney's worst nightmare: an innocent client.

But seeing that Menendez is freed could have significant consequences for Mick's present client, Roulet. There is no easy way out of this dilemma, especially when the success of Roulet's defense becomes entangled with the continued safety of Mick's first ex-wife and their daughter. Furthermore, Mick finds that his ethics won't allow him to finesse the situation; he must bring in a not guilty verdict for Roulet, regardless of its consequences.

Connelly writes some remarkable courtroom scenes, a testament to his years as a journalist when he must have spent some long hours watching criminal trials. He also enlisted the help of a couple of trial lawyers and a judge, whom he acknowledges in the book; he learned the lessons they taught him. Any attorney would be proud to have conducted (most of) the cross-examinations Connelly sets out.

I always wonder about folks who permanently abandon a book if it doesn't immediately grab them, because too often I've often discovered that some books reveal their stories only slowly. Connelly has accomplished the trick of a complex character whose world-weariness is only a pose, and given us a legal thriller with plenty of twists, turns and somersaults. It is a very fine example of its genre.