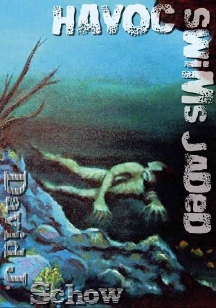 David J. Schow
Havoc Swims Jaded
Reviewed by: Mario Guslandi© 2006

Suberranean Press
First Edition Trade Hardcover
ISBN 1-59606-067-0
296 pages; $25
Publication Date: 10-31-2006
Date Reviewed: 10-01-06
Index: Horror Mystery General Fiction

'Havoc Swims Jaded' (you're welcome to figure out the meaning of this title) is, according to the author, his 13th published book, and his seventh collection. Incidentally, it includes 13 stories.

Any cabalistic meaning? Again, go figure. Although a fairly successful and award-winning writer with a good suite of followers, Schow never quite made it so far into the Olympus of great horror masters. The reasons may be various, but after reading the present collection my guess is that it's because the quality of his work is extremely inconsistent, varying from excellent to downright atrocious.

Among the stories included in the book, take for instance "Dismantling Fortress Architecture" and even "Scoop vs Leadman" (a further instalment in his Scoop miniseries). Here you can experience examples of a nervous, sketchy narrative style that I find far from appealing.

Schow seems to want to avoid straightforward storytelling in favour of a more elliptical, circuitous way of building the plot, which appears terribly confusing. Moreover the characters have no thickness and remain mere "personae" or comic strip stereotypes.

On the other hand there are splendid pieces where the author displays what he can achieve when, giving up his attempts to be eccentric, he forces himself to produce solid, consistent fiction.

This is the case with "The Pyre and Others", where a scarce book by an elusive author, endowed with unusual properties, is the key point of a fully enjoyable, well written tale, and the superb "Obsequy", a compelling piece recounting the events taking place in a small town when the disinterment of the corpses from a local cemetery brings the dead back to complete the deeds left unaccomplished at the time of their death.

Other very good stories are "What Happened With Margaret", a cruel yarn featuring an overweight housewife dealing with robbers and rapists during a mild earthquake in California, and "Plot Twist" a nasty, gripping tale where two men and a woman go astray in a desert tainted with a weird atmosphere. While their relation gets strained and bizarre theories are suggested to explain their predicament, things take an unexpected turn. Absolutely perfect.

"Size Nothing" is a delightful piece where a woman obsessed with the desire to improve her looks becomes an unrecognizable entity and "Wake-Up Call" effectively depicts a world where suicide is considered a social crime and has to be amended…

Other stories, however, are just fair and can be quickly forgotten, like "Five Sisters. A Fable", which is exactly what the title promises, and "The Thing Too Hideous To Describe", proving that the concept of "monster" is quite relative.

In short, this is a book collecting a bunch of stories of variable rank by an author who can produce with the same ease superb fiction and irritating, mediocre stuff.