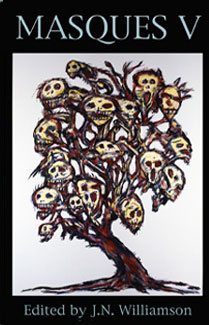 Edited by JN Williamson &
Gary A Braunbeck
Masques V
Reviewed by: Mario Guslandi 2006

Gauntlet Publications
ISBN 1-887368-85-X
Publication date: July 2006
469 pages, Hardcover $50.00
Date reviewed: April 30, 2006
Index: Horror Fantasy Science Fiction General Fiction Mystery

Are fiction writers mainly storytellers? In my way of thinking, they should be, but not everyone will subscribe to this point of view. Some authors feel that telling stories is a childish game and their mission in life is of a higher importance. Hence, they're shunning plots to devote themselves to the art of wording, of describing in detail ordinary, daily activities or of expressing their personal sensations and opinions about life and the universe. Which is all very well, but at the end of the day what fiction readers want is a well-told good story, never mind if it's a novel, a novelette or a tale.

Good storytelling has always been the hallmark of the beloved, successful 'Masques' anthologies, edited by the late JN Williamson, who sadly passed away while still working — after a hiatus of about fifteen years- on the present, fifth volume in the series. Graced with a cover design by the multitalented Clive Barker (who, unfortunately, did not contribute any piece of fiction), 'Masques V' is a bulky volume collecting twenty-nine horror stories by both established genre masters and newcomers. With very few exceptions— that I won't name— the tales are all fine examples of good storytelling, up to the expectations of any 'Masques' fan. For obvious reasons I'll refrain from commenting on each single story to mention only the ones which seem to me the best contributions.

Poppy Z Brite sets the tone with 'Wandering the Borderlands', an excellent mini-tale probing the secrets of death. Richard Matheson's 'Haircut' is a predictable but extremely enjoyable story featuring an unusual customer showing up in a barber shop during a hot summer day.

Horror writer Ray Garton unexpectedly provides an amusing Twilight Zone-like piece ('Recall') endowed with a moralistic touch.

Christopher Conlon's 'Ghost in Autumn' is a delicate and moving modern ghost story where a woman dead for twenty years comes back to visit her only son. In 'The Black Wench', a delightful reprint by the late Ray Russell, a British mansion is haunted by a ghost-to-be, while in Thomas Sullivan's poignant 'Phantom at the Rainbow' an old tragedy replicates every Friday night in a disused drive-in.

Jack Ketchum and PD Cacek ('The Net') set up a pleasant duet between two people chatting on the net and ending up in a far from predictable real encounter . Joe Nassise's ' Saintkiller' is a deeply unsettling story of violence death and deliverance featuring a tired but brave cop.

In the fascinating and heartbreaking 'In a Hand or Face' by Gary A Braunbeck, a peculiar fortune teller reveals to a distressed mother the fate of her young child (nothing is more terrifying than life itself), whereas in Tim Waggoner's 'Waters Dark and Deep', a series of nightmarish events shake up the quiet existence of a young girl obsessed with water.

Tom Monteleone's 'How Sweet It Is' is a marvellous tale describing how the nostalgic quest for an elusive, old TV show brings about the disclosure of an unexpected reality.

Ed Gorman contributes 'Intent to Deceive', a quiet crime story set in an Army town in the grim days of WW2. Personal anecdotes entwine to form a bleak tableau.

J N Williamson himself creates a cute tale about "vagitus uterinus" ('Outcry') and its dire consequences for an inexperienced father.

You'll be entertained, pleasantly scared and cuddled by a bunch of skilled narrators. Furthermore, you'll find reasons for making some serious thinking about the world and the truths of human life.

A good story teaches us much more than any pretentious, solemn literary effort.