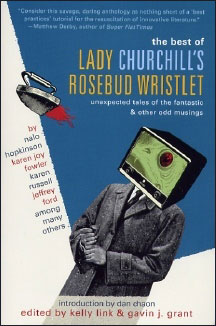 Edited by Kelly Link and Gavin J Grant
The Best of Lady Churchill's Rosebud Wristlet
Reviewed by: Mario Guslandi © 2007

Del Rey/ Random House
US First Edition Trade Paperback Original
ISBN 978-0-345-49913-4
387 pages, $ 14.95
Publication Date: 08-28-2007
Date Reviewed: 10-15-2007
Index: Horror Mystery Science Fiction Fantasy Non-Fiction General Fiction

Founded in 1996, Lady Churchill's Rosebud Wristlet (aka LCRW) is a renowned, although not widely known, small press magazine featuring a mix of short fiction, poems, columns etc. Various stories from LCRW have been included in Year's Best and Best of the Rest anthologies, which provides evidence of the quality of its content.

Editors Kelly Link and Gavin J Grant have now assembled what they think is really the best stuff appeared in the magazine throughout the years and I guess we must trust their judgement. So, here's the material in book form, producing an anthology, which hopefully should draw the attention of more readers to LCWR itself.

If you're a flexible reader (which I'm not) and an eclectic reviewer (which I'm unsuccessfully trying to be) the volume represents a feast, providing a variety of material apt to keep you pleasantly busy during many nights or weekends.

Having little inclination to read poetry and little interest in non-fictional stuff, I focused my attention to the stories. Again, there is a great variety in the fiction's tone and style, the genre most commonly included being the so-called "slipstream".

As far as fiction is concerned here's my personal "best of the best" of LCWR.

To me Deborah Roggie's "The Mushroom Duchess" stands out as the most accomplished story in the whole book, a delightful, extraordinary fantasy tale describing the activities of an old Duchess notorious for her dangerous teas.

Unsurprisingly I enjoyed in the extreme the superb "What's sure to come" by Jeffrey Ford, an outstanding yarn telling a boy's family memories and wonderfully depicting the marvels and miseries of human existence.

Other very good stories are "Heartland" by Karen Joy Fowler, a delicate, sad piece about a love delusion, "Pretending" by Ray Vuckcevich, an atypical, modern ghost story with an undercurrent of melancholy and despair and Sarah Monette's exquisite "Three Letters from the Queen of Elfland", a fantasy tale revolving around love and duty and the pain that both bring about in a woman's heart.

Two quite enjoyable stories are "Bay" by David Eric Nelson, a cute, ghostly peace featuring a whining dog and a naked little boy, and John Kessel's "The red phone" a funny quickie told in a bittersweet tone.

Is that all? Well, it should be enough to buy the book, but if you're one of those readers who want to make good use of their money, don't be discouraged, and rest assured that you'll find in this book much, much more than this review can tell.