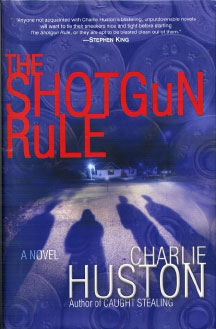 Charlie Huston
The Shotgun Rule
Reviewed by: Rick Kleffel © 2007

Ballantine / Random House Books
US First Edition Hardcover
ISBN 978-0-345-48135-1
250 Pages; $21.95
Publication Date: 08-28-2007
Date Reviewed: 09-17-2007
Index: Mystery General Fiction

Charlie Huston has earned pretty good reputation writing fast-reading, funny noir tales with lots of violence and lots of swearing. His prose is close to unassailable and his subjects tend to be as light-hearted as one can be when writing stories about severing heads, torturing cats and inventive uses for baseball bats. This is not to say there's no substance to his previous work; there's plenty of pith social commentary in work like 'Caught Stealing' or 'Already Dead'. As much as can be sandwich in-between marathon uses of the word "Fuck" and surgery a la Jackson Pollack. But the commentary isn't the point of these books; the fun and the style are. Whether he's writing about vampires in New York or hapless hit men, Huston tends to go well beyond the realm of ordinary experience.

With 'The Shotgun Rule' there's no loss of fun, and there's plenty of style. But Huston's first standalone novel is achingly realistic; beneath the tough-guy talk, there beats the heart of the downtrodden American working-class family. Crushed by economic and social forces, tortured by the decisions offered in everyday life, the boys and girls, the men and women of 'The Shotgun Rule' are exactly the people you'll hope not to remember from your life in the 1980's. And the fact is that you won't forget them after reading Huston's powerful tale of past lives that come to the surface and apples that never fall too far from the tree.

As the novel opens, it's summer 1983 in a shitty little suburb somewhere east of the East bay in Northern California. George is the suave older brother, Andy, the dweeby tag-along genius; Hector the Latino punk rocker, and Paul the migraine-prone font of violence. The four boys give Andy a ration of shit when he gets his bike stolen by one of the Arroyo brothers. The Arroyos are bad dudes, they live in the sketchy house. George and company decide to get Andy's bike back. It proves to be a bad plan. Lives unravel faster than you can say, "Maybe we should..."

Houston preserves his style and humor here. Fans of his previous books will find 'The Shotgun Rule' just as funny and just about as violent as anything else he's written. But starting with the carefully observed characters, Huston stays well within the unfortunate bounds of everyday life in 'The Shotgun Rule'. This is to say, that in just about any American city, you can turn on the eleven o'clock news and hear about shooting, robbery, a murder, or a burglary. The people who do this stuff are the characters in 'The Shotgun Rule', and they're a poignant and often repugnant bunch of people. It's not just the kids we met in Huston's latest, though they stand front and center, pretty much flipping off the reader and everyone else in range. As he gets inside each boy, he draws a sharply-etched picture of the terror, the alienation, the ugliness of American teens; and yet he still loves these boys.

Moreover, he loves the parents, and you will as well. The adults, sort-of. Some of them have matured, and some of them have just learned to act like adults without actually maturing. As for the criminal elements, they're also strangely likable. Moreover, Huston manages to make them simultaneously pathetic and threatening. It's an awesome treat to read about these scums-of-the-earth, even though you might think some of them live next door.

The action in 'The Shotgun Rule' manages to be nearly as over-the-top as that in Huston's previous work, but it much more spookily believable; at least if you believe what you see on the eleven o'clock news, and live in a sufficiently violent locale. But all the battle and gore in the world won't keep you reading unless it is grounded in characters you care about (we've that all sewn up, see above) and properly paced with scenes that may not involve mayhem but do involve the reader. Huston has that all sewn up as well. Scenes that fall into the "getting to know the characters" slot are just as gripping as scenes that fall into the "watching the characters kick ass/get their asses kicked" slot. This is aq book with only good parts.

For all the humor, for all the gnarly, nail-biting terror that Huston unearths in his East Bay extravaganza, the real draw here are the real, raw emotions he puts so easily on display. 'The Shotgun Rule' is one of the most honest, unvarnished looks at a side of American life you rarely see portrayed in fiction. Huston gives readers both sides of the story, and the sweetness at the heart of the relationships is even more powerful for all the economically induced dysfunctional behavior that plays out. If we're lucky, we just know about these people. They're the mug shots, the now-dead high-schooler graduation shots that blink into our lives for a few moments as we drift off to sleep. Life is pretty damn ugly here; always will be, I suspect. So are these people, until they're a part of your life. And upon reading this novel, these people will be a part of your life. Your friends; our neighbors; maybe even you.