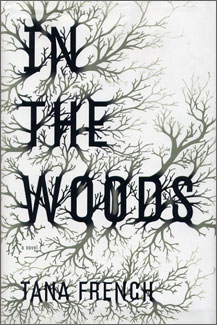 Tana French
In the Woods
Reviewed by: Terry D'Auray © 2008

Viking, The Penguin Group
US First Edition Hardcover
ISBN 978-0-670-03860-2
429 Pages; $24.95
Publication Date: 05-15-2007
Date Reviewed: 08-08-2008
Index: Mystery General Fiction

Tana French's highly lauded debut mystery novel combines the sophistication of a Peter Robinson police procedural with the complexity of Kate Atkinson's highly literary Jackson Brody detective stories, while it slyly manages to turn many of the conventions of detective fiction on end. 'In the Woods' is an immersive psychological suspense story, populated with exceptionally well-developed and deeply engaging characters told in dense, rich prose. With minimal on-screen violence but maximum chill, it is, quite simply, unputdownable.

In a suburb outside of Dublin, three pre-teen friends go off to play in the nearby woods as they have many times in the past. When they fail to return, police search the area and find only one terrified child, Adam Ryan, his arms wrapped around a tree trunk, his shoes filled with blood. Ryan has no memory of what transpired between the time he went into the woods and the time he was found. Some twenty years later, Adam Ryan has changed his name to Rob Ryan and is a detective on the Dublin murder squad. When 12-year old Katy Devlin is found murdered in the exact same woods, Ryan partners with the newest member of the murder squad and close friend, Cassie Maddox, to investigate the case.

Ryan is the first-person narrator of this story and his first sentence warns us "to remember … that I am a detective. Our relationship with the truth is fundamental but cracked, refracting confusingly like fragmented glass". That's a succinct and telling summation of the terrain that lies ahead. Ryan's observations are slippery, sometimes brilliant and intuitive and other times clouded by his personal demons or thwarted by his repressed childhood memories. Cassie is both his companion and his foil, a strong but secretive detective with a lively sense of humor and a well-grounded, pragmatic sense of the world. Rob and Cassie's relationship, a mix of comfortable camaraderie, sly in-joke humor, and sincere affection anchors the narrative and involves the reader in a very personal way with the unfolding events.

The historical mystery both informs and circumvents the present-day story. The contemporary mystery initially flows like a classic police procedural, filled with blind alleys and dead ends, populated with characters that seem suspicious, if not outright guilty, and those who are flawed but basically good. But the classic feel changes dramatically as the story nears completion and the ending, while fair and fully believable, is unsettling, surprising, and sad.

French takes her time telling this character-driven story, slowing revealing ever more information about the key players and expanding details about the events of both the past and the present which form the crux of the narrative. While the pacing is languid, there's a persistent sense that something untoward is soon to come. French's descriptive, flowing prose encourages the reader to savor this slower pace, while never loosing that suspenseful knot in the stomach that marks a superlative crime story. All in all, 'In the Woods' is a great find - a crime novel not to be missed.

French's second novel, 'The Likeness' featuring many recurring characters, has just been released in hardcover.