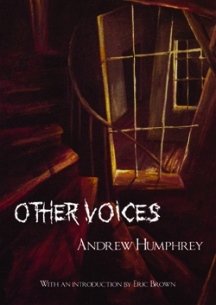 Andrew Humphrey
Other Voices
Reviewed by: Mario Guslandi © 2008

Elastic Press
UK First Edition Trade Paperback
ISBN 978-0-9553181-4-6
221 pages; £5.99
Publication Date: 01-28-2008
Date Reviewed: 04-06-2008
Index: Horror Science Fiction Fantasy Mystery General Fiction,

After his extraordinary debut collection 'Open the Box' I was looking forward to Andrew Humphrey's second volume of short stories and at last, five years later, here it is. 'Other Voices' comes from the same publisher (the excellent UK imprint Elastic Press), shows the same ability to move through different genres (crime, SF, urban horror etc), and, more importantly, is of the same high quality.

The present collection assembles twelve stories where Humphrey manages to entertain, scare, move, thrill and make the reader ponder on the many aspects of the human condition. A recurrent theme in many of the stories is the intricacy of interpersonal relations. Fine examples are the excellent 'Old Wounds' depicting the truth, the difficulties and the pain of the relationship between man and woman, and the interesting but less convincing 'War Stories'. 'Butter Wouldn't Melt' is another well-written story revolving around betrayals. Humphrey probes the many aspects of marriage failure, conveying a subtle sense of gloom and bleakness.

Private matters and politics are effectively mixed in 'Grief Inc.', a SF piece describing a future world ruled by a stern Council, where a man endowed with the ability of curing people from grief discovers the value of caring for others. The title story, 'Other Voices', is the merciless portrait of a spaced out cop haunted by a past that never was, while 'Tilt' is the icy description of the crisis of a married couple in a world in a state of chaos.

The compelling 'Think of a Number' provides a disturbing view of child abuse (with the victim finally taking his revenge) and the splendid 'Holding Pattern' offers an accomplished analysis of how a man experiences a progressive collapse of the surrounding reality. In 'Three Days,' the abduction of a little girl alters the precarious balance in the parents' marriage. Her return puts things back in order, but not quite...

To me the best tale in the volume is 'Strawberry Hill', an outstanding piece graced by a great characterization, in which an episode from the past still haunting two former friends is brought into the open by a curious wife. 'Other Voices' reconfirms Humphrey as one of the best new British writers, a solid storyteller with a knack for describing reality with a clear mind , showing a deep insight of human frailties.