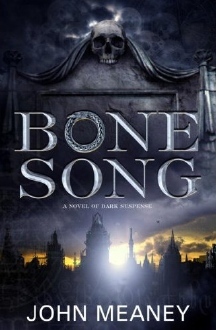 John Meaney
Bone Song
Reviewed by: Terry D'Auray © 2008

Bantam Spectra / Random House
US First Edition Hardcover
ISBN 0-553-38514-4
370 Pages; $24.00
Publication Date: 02-01-2008
Date Reviewed: 04-08-2008
Index: Science Fiction Horror Fantasy Mystery

'Bone Song' is nothing short of a one-stop-shop for readers of genre fiction. All genres. It's part science fiction, part police procedural crime fiction, part gothic horror, part thriller, all mixed together with a love story. Oh, and it's often witty and frequently quite funny too. With double-crosses, shoot outs, car chases and lusty sex, it's hard to imagine what a reader might want that couldn't be found here. And while it doesn't deliver A plus ratings in each genre, the overall effort certainly earns more than a passing grade.

A secret sect is killing off the world's greatest artists, stealing their corpses and rendering from their bones an elixir that's both unforgettable and addictive. Tristopolis police lieutenant Donal Riordan is assigned to make sure nothing of that sort happens to visiting diva Maria deLivnova. He soon unmasks a sophisticated and decidedly complicated necromantic conspiracy that reaches into the top echelons of the government and joins an elite task force to identify the conspirators and bring them to justice.

Meaney's forte is in creating, and then vividly rendering, the unique, very dark world of Tristopolis, a city powered by enormous necroflux generators that are fueled by the bones of thousands upon thousands of dead people. The imagery is unrelentingly dark and gloomy, a landscape filled with multi-layered, subterranean catacombs, soaring gothic towers and roadways running through skulls. Meaney's prose is descriptively lavish and the mood is coldly eerie, creepy and unsettling. The characters range from fully human, to para-human, with decidedly non-human, invisible wraiths and a classic witch or two tossed in for good measure. Even the cars and motorcycles have spectacular humanesque abilities. Whatever their form, the characters all seem to get on surprisingly well, communicate with ease and, in the case of our hero-protagonist and his female boss, enjoy a lively sexual relationship. SF readers will likely find much to appreciate in the elaborate details of this other world. Cat lovers will be even happier to discover the crucial role played by felines as they unite to serve the good cause.

The multiple plot twists will be familiar territory to readers of contemporary thrillers or hard-boiled crime novels. Greed, corruption, deceit and betrayal — all the stuff that drives crime fiction — are fully present amongst the good guys, bad guys and not-quite-sure-which guys of Tristopolis. While not particularly unique, the story is strong enough to keep the pace rapid and the action lively. Best not to delve too deeply into the plot particulars, but simply suspend disbelief and let Meaney's crisp prose and uniquely imaged world engage and entertain you.