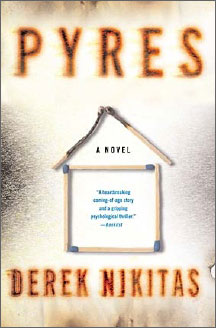 Derek Nikitas
Pyres
Reviewed by: Terry D'Auray © 2008

St. Martin's Minotaur
US First Edition Hardcover
ISBN 978-0-312-36397-0
308 Pages; $24.95
Publication Date: October, 2007
Date Reviewed: February 6, 2008
Index: Mystery General Fiction

'Pyres', the first novel by short story writer Derek Nikitas, is billed on the front cover as a "heartbreaking coming-of-age story and a gripping psychological thriller". It is certainly both. But it's also an immensely powerful, emotionally gripping, crime-and-consequence story of three female characters, ranging from teen age to middle age, who face circumstances and make choices that will forever alter their lives.

Nearly 16 year-old Lucia Moberg gets her professor father to drive her to the mall where she steals a few CDs for her friends. In the mall parking lot as they're ready to return home, Luc's father is brutally gunned down, the apparent victim of a botched robbery. Thus begins a series of events that grows ever more frightening and ever more violent as each twist unfolds. From her mother's attempted suicide to her own capture and torturous escape, Luc's "coming of age" story is unrelenting in its ferocity - a bleak nightmare that resolves far more positively than one would ever expect it ever could.

Nikitas tells his story from the points of view of three complicated, conflicted female characters. Lucia, a mixture of bravery, bravura, and conflicted adolescent understanding, is the centerpiece. Traumatized by her father's death, angered by her mother's suicide attempt, lusting for the boy next door, Luc is but one short step from emotional meltdown. Visions from her father's Swedish heritage, initially an apparent product of her fragile emotional state, ultimately lead her to survival and provide an ongoing surreal element to the narrative, a bit reminiscent of a John Connolly Charlie Parker novel.

Pregnant teen Tanya, a none-too-smart lowlife, has been rescued from a life of drugs and prostitution by her outlaw boyfriend with the promise of the safety and security of a family — ultimately, a perverse pseudo-family for which she will pay a heavy, heavy price. Investigating the professor's murder is police officer Greta Hurd, a world-weary cop who's seen way more violence and misery than she's able to handle, and who shoulders her own set of familial problems.

As the plot unfolds, these three women are forced by extreme circumstances to make one painful and exceptional choice after the other, each ultimately tossing aside morality to embrace survival. Though gruesome and loaded with vividly described violence, the compelling finale mandates that the reader keep turning the pages, faster, faster, to find out who, if anyone, survives, and how.

Nikitas is an assured and controlled writer with a vivid imagination and a remarkable ability to mind-meld with characters of neither his own gender or own age and render them in realistic detail. Though told from three points of view, the story blends smoothly and seamlessly. While not for the feint of heart, the bloody violence in 'Pyres' is an essential part of the suspense and seriousness that packs the narrative punch. That a story so sincerely dark, so frequently terrifying, should end with such optimism is a surprise — and a welcome one. Tough reading — yes; immersive reading — definitely; recommended reading - absolutely.

'Pyres' has just been nominated for an Edgar in the Best First Novel category.