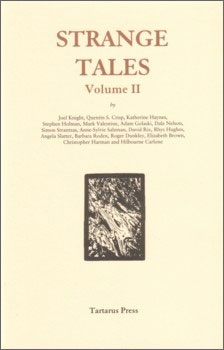 Edited by Rosalie Parker
Strange Tales Volume II
Reviewed by: Mario Guslandi © 2008

Tartarus Press
UK First Edition Hardcover
ISBN 978-1-905784-05-9
327 pages, £ 30.00
Publication Date: December 2007
Date Reviewed: January 5, 2008
Index: Horror Fantasy Mystery General Fiction,

Following the World Fantasy Award-winning anthology 'Strange Tales', this second volume assembles seventeen new stories which, according to the editor, aim to "explore a fantastic idea ,supernatural or psychological, with the intention of causing uncertainty or unease". The stories, regardless of genre limitations, can vary from the traditional to the experimental, from the serious to the comic but ultimately they are supposed to undermine the reader'' assumptions "to a degree that they find uncomfortable". The tales included therein do fulfil the book's purpose and display a variety of subgenres, styles and themes.

As a starter, in Joel Knight's 'Calico Black, Calico Blue', we meet a man visiting a bizarre neighbour lady living with a bunch of dolls. A strange tale indeed, creating a dark atmosphere apt to send shivers down the spine.

In 'The Fairy Killer' Quentin S Crisp exhibits once more his virtues and his vices as a writer: exquisite wording and elegant style for a flimsy plot starring a young girl acquainted with fairies and her sceptical, unpleasant uncle.

The unsettling 'She Lights the Little Candle' by Katherine Haynes is a little gem featuring a peculiar, dangerous girl who likes to lurk in the shadows of a cemetery.

Stephen Holman contributes a cute, vaguely Lovecraftian tale ('Mr Poppy') in which a successful cartoon character is linked to a long forgotten prehistoric reality, and Adam Golaski in 'What Water Reveals' provides an elliptical narration of an alcoholic's battle against temptation while water mysteriously sprouts all over from beneath the ground (a symbolism?)

By contrast Simon Strantzas' 'The Other Village' is an allusive, upsetting tale depicting a short trip to an exotic island by two belligerent ladies during an unhappy vacation tour while Angela Slatter's 'Sourdough' is a delightful fairy tale where true love triumphs over evil and witchcraft.

The touching 'The Hiding Place' by Barbara Roden, revolving around a family tragedy, effectively portrays the sensitive little sister of a young girl stuck in the hospital after a car accident.

'Pastor Arrhenius and the Maiden Brita' by Dale Nelson is an entertaining Swedish saga à la Ingmar Bergman taking place in the last century in which a lonely clergyman has to face ancient legends and small town prejudices.

By far the best story in the book to me is Elizabeth Brown's 'Llanfihangel' an unforgettable, extraordinary tale masterfully blending crime, supernatural and the downright weird, graced by superb storytelling.

While the remaining contributions fail to elicit in me either interest or emotions, the above-mentioned stories are so good to make the anthology a very rewarding reading experience producing that pleasant uneasiness and discomfort that any admirer of "strange" tales is seeking in dark fiction of good quality.