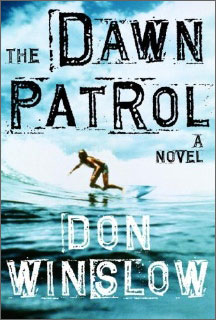 Don Winslow
The Dawn Patrol
Reviewed by: Terry D'Auray © 2008

Alfred A. Knopf / Random House
US First Edition Hardcover
ISBN 978-0-307-26620-0
307 Pages; $23.95
Publication Date: June, 2008
Date Reviewed: May 25, 2008
Index: Mystery

There are more than a few surfer PIs in mystery fiction, from Richard Barre's Wil Hardesty, Jeff Shelby's Noah Braddock to TV's Magnum. Now we can add Boone Daniels, Don Winslow's engaging, laconic protagonist and central figure of the dawn patrol, a group of 6 buddies (5 men and one woman) who regularly surf the early morning hours north of San Diego. Boone, a former cop turned PI who works just enough to support his surfing lifestyle, is hired by a beautiful attorney, Petra Hall, to investigate suspected arson-insurance fraud, but soon uncovers far darker, more deadly goings on beyond the sunny shores of the Pacific.

'The Dawn Patrol' begins with breezy, palsy camaraderie among the six surfing buddies. There's Dave the Love God, a beach life guard; Hang Twelve, so named because he has six toes on each foot; High Tide, the 300-plus pound Samoan; Johnny Banzai, a Japanese cop and hard-charging surfer; and Sunny Day, the lone female and eponymous blond, beautiful California surfer girl. Surfbonics, the unique slanguage of surfers, provides both vivid descriptive imagery and laugh out loud characterizations of the life and loves of die hard surfers.

Loaded with interesting San Diego history and abundant surfing lore, the narrative moves swiftly to fill-in the back stories of the dawn patrol regulars while laying out an increasingly complex mystery involving murder, child abduction and human trafficking. The breezy beginning turns ever darker as the action moves away from the surf and on to the evil doings of powerful local gangsters, greedy sex club owners, and the people they use and, more often, abuse in their quest for dominance.

Winslow fleshes out the lives of the six dawn patrol surfers, weaving in the pieces of their past that showcase the roots of their identities, and then adeptly intertwines all these personal stories with the unfolding crime story, to the benefit of both. Each character plays some key role in the way the crime narrative unfolds and each undergoes a personal epiphany, some modest, some more significant, that leaves them substantively changed at the novel's end. That this rich characterization doesn't diminish the mystery, and, in fact, enhances it, is proof of Winslow's ability to tell exceptionally deep stories that are nuanced but tightly focused.

With an expansive cast of supporting characters, a well-balanced mix of violence, action and introspection, 'The Dawn Patrol' is a top rate crime story. But, it succeeds, too, as a story about human interaction and the inevitability of change — in relationships, in interests, and in the face of progress. There's a pleasing symmetry to this tale; justice is done, valued traditions are upheld and characters' lives move forward in ways that ring true and feel right. Winslow delivers yet another satisfying hit and leaves us to hope that Boone Daniels and his surfing buddies will re-appear in future novels.