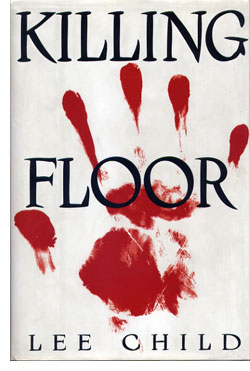 Lee Child
Killing Floor
G.P Putnam's Sons
US Hardcover First Edition
ISBN 0-399-14253-3
Publication Date: 03-17-1997
360 Pages; $23.95
Date Reviewed: 12-03-2012
Reviewed by: Rick Kleffel © 2012


Index: Mystery General Fiction

If you get the voice right, everything else follows. Lee's Child's first novel, 'Killing Floor,' is an exercise in perfect pitch, a terse tale of terror narrated by a laconic giant with the deductive perspective of Sherlock Holmes. We meet Jack Reacher sitting in a café moments before he is arrested. He's a basic guy eating a basic meal. He'd probably prefer to be left alone, but his outlook on life includes a natural inclination to get to the truth of things, and once arrested for a crime he clearly did not commit, he's not going to rest until the guilty have been punished. As an ex-MP, he's well aware of how just how brutal crime and punishment can be. No longer a part of the military, or indeed, anything, he lives day by day and follows his own code. Readers cannot help but enjoy the ride.

Given Reacher's intense and often-mentioned physicality — he's 6'5", 250 pounds of well-toned muscle — it's easy to think that 'Killing Floor' might be an exercise in mindless violence. There's plenty of violence and a fair amount of action, but Child's first-person narration is endlessly intelligent in an ever-engaging low-key manner. Reacher, accused of some very brutal murders, seeks not just to prove his own innocence, but quickly decides to find and punish the guilty; "I had no laws to worry about, no inhibitions, no distractions. I wouldn't have to think about Miranda, probable cause, constitutional rights. I wouldn't have to think about reasonable doubt or rules of evidence. No appeal to any higher authority for these guys. Was that fair? You bet your ass. These were bad people."

The pleasures in Child's novel are many. Beyond Reacher's intelligent voice and his entertaining deductions, Child offers a fresh vision of America as a sort of suburban frontier. Margrave, Georgia, where the action unfolds, is a well-wrought quintessential southern small town with a secret, a rot at the heart of the town that has infected many of the residents. The scheme driving the murders that occur as Reacher tries to stop them and save those he has come to care about is really quite clever and still relevant. The plot offers both surprises and satisfactions.

Child's secondary characters are excellently drawn; there's a love interest, a good cop, an unwilling participant in a malevolent scheme and some truly nasty folks who might work well in a horror movie. All of them, however, are filtered through Reacher's perceptions and voice. That laconic, deductive eye makes everyone around Reacher seem just a little distant, even as the tension winds up, bodies accumulate and a timeline ticks down towards an event with unknown implications. The distance crated by Reacher's voice makes all of this seem both realistic and immediate. Child keeps every question in the readers' minds at bay by virtue of keeping engrossed in the story and the man.

Given the dire nature of the story, Reacher's physicality and the level of action, it helps that 'Killing Floor' has a deep and very mordant sense of humor. Revenge and humor are best served cold, and Reacher does so with an icy ease that is so enjoyable that it is very difficult not to laugh. We are certainly not laughing at Reacher, nor with him. It's just Child's ability to provide a pulse of pure reading pleasure that occasions these outbursts.

'Killing Floor' is an example of reading stripped down to the basics; story, intellect and character. That, and a bit of prescience with regards to the core of the mystery, certainly explains why a 1997 title reads perfectly well some fifteen years later. Let those pure powers flow through the voice of Jack Reacher and you have a guaranteed entertainment that is much more, but never makes a fuss about it. In fact, one might feel that were anyone to do so, to try to impart import to the tales of Jack Reacher, Reacher himself might come and talk some sense into them. Lee Child lets Jack Reacher and his exploits speak for themselves; quietly, without wasting words, in a voice that one is inclined to follow.