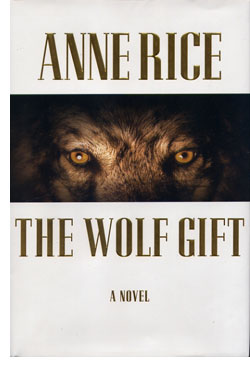 Anne Rice
The Wolf Gift
Alfred A. Knopf / Random House
US Hardcover First Edition
ISBN 978-0-307-59511-9
Publication Date: 2-14-2012
406 Pages; $25.95
Date Reviewed: 02-25-2012
Reviewed by: Rick Kleffel © 2012


Index: General Fiction Fantasy Horror Mystery Science Fiction

The tropes of any genre can become traps; they can be limiting or liberating. Anne Rice finds liberation in 'The Wolf Gift,' a lush but tense re-invention of the werewolf for the 21st century. Gorgeous prose and rich characters give depth to a thought-provoking plot that is exciting and engaging. Rice brings all her strengths in perfect proportions to craft a ripping yarn that you'll be thinking about long after the final page is turned.

Reuben Golding is handsome, smart, wealthy, but lost in life. He's working as a reporter for a local newspaper, doing a puff piece about the sale of a decaying estate on the coast of Northern California. He's eager but full of self-doubt. He falls for Marchent Nideck, the elegant woman who has inherited the estate, while she is giving him a tour, but their visit to the estate ends in horror. Reuben survives and finds he's a changed man — literally.

Balance is the key to the power of 'The Wolf Gift.' Rice brings all of her considerable talents to play here, and ratchets them up to eleven in a seamless manner that manages to be lushly sensuous but excitingly tense. After a well-crafted romantic idyll that sets the scene, violence and terror intrude and are afterwards never far away. There are considerable pleasures to be found on a variety of levels that will appeal to a wide variety of readers. 'The Wolf Gift' might easily be Rice's best novel yet.

Rice creates a large cast of characters who are memorable and likeable. Reuben's friends and family, and the Nideck family, as well as those who are pulled into their world, have the prickly feel of people we might know or hope to know in real life. Rice is really on her game here, giving us enough details, but doing so in a manner that lets us fill in some blanks as well. The story is told from Reuben's perspective as he becomes something more than human, but it manages to make us feel that he is simply more human. The paradox at the heart of the novel pulls us on and we look forward to every page.

Rice calls her creature a "man wolf" because even though he turns into a beastly creature, he retains his human intelligence and character, augmented by the perceptions and strengths of the monster he becomes. This enables a wonderful turn of plot that lets Rice seamlessly mix notions of theological and spiritual fiction with elements of toe-tapping crime fiction. She's great at both and the supernatural synthesis is indeed super, since she manages to touch on the concepts of vigilantism, heroism and responsibility in the midst of phenomenally well-written set pieces. She's got a great imagination and her spin on this trope is unique.

For all the thought and characterization and literary references, all the lush prose and sensuous romance, 'The Wolf Gift' never loses sight of the fact that reading can and should be fun. We as readers often know more about Reuben's predicament than Reuben does, and Rice uses this to create tension. We want to see Reuben use his powers, and he indeed comes to do so, with results that neither the reader nor the character can guess. Rice is honest enough to take her own creation, and its consequences, seriously. We care — and think — about what's happening and why.

With 'The Wolf Gift,' Anne Rice offers readers the gift of literature — a novel that speaks to this age of this age in an ageless manner — that is as easy to enjoy as the many films it quotes, cites, and actually tops. Rice's writing reminds us of the power of prose as a special effect, that words can transform not just the thoughts and lives of characters, but those of readers as well.