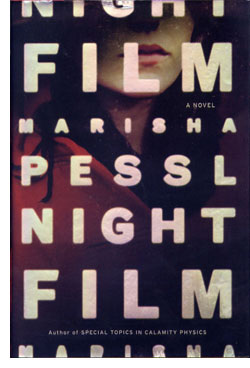 Marisha Pessl
Night Film
Random House / Random House
US Trade Hardcover First Edition
ISBN 978-1-400-06788-6
Publication Date: 08-20-2013
606 Pages; $28
Date Reviewed: 09-21-2013
Reviewed by: Rick Kleffel © 2013


Index: General Fiction Horror Mystery

Mysteries are best left unsolved. The monster is best left unseen. But between the covers of the book, our experience must expand beyond what is solved and seen. 'Night Film' by Marisha Pessl, leaves a lot of the cutting room floor, but only the footage that is best rendered by the reader.

What Pessl offers on the page is nothing less than an engagingly overstuffed cabinet of curiosities, replete with baroque characters, a modern gothic sensibility, plots and stories that unfurl in a fractal fabric and even picture postcards of your vacation in her home-made hell. 'Night Film' is discomfort reading in best sense of the word.

In senses, the plot is simple and straightforward. Scott McGrath is a fallen reporter, whose last big story about a mysterious director of arty horror films, Stanislaus Cordova, blew up in his face. His life followed. Now it looks like the director's daughter has committed suicide, giving him a chance for redemption. He picks up some helpers; Nora, a hat-check girl Friday and Hopper, a suave sleaze with connections to the case. Their goofy informal detective agency has the case in hand for about second before it starts to come apart at the seams.

Pessl's novel is filled with images from Cordova websites, McGrath's case notes, and all the ephemera one might hope to find in that Cabinet of Curiosities. For all that he's a disgraced reporter, McGrath is an engaging narrator. But he spends a lot of time listening to other people's stories, so the first-person narrative never hangs heavy. The novel is loose and fun, as we follow our intrepid team ever deeper into the darkness.

Pessl's smart characters are the core of the stories here. They're believable, fun, sometimes scary, sometimes pathetic, but always riveting. You'll enjoy every meeting she has in store for you. She's smart enough to play the walk-on roles off against one another, so that every successive meeting adds a new vision to the bigger puzzle of the absent man at the middle of this maze, Stanislaus Cordova.

Pessl's plot is enjoyably complicated and not at all straightforward. This is the idea; we're in the world of the modern gothic. Hidden lives, secret cults, merchandising magic, forbidden websites, video's that may drive you mad — the path in is devious by design. What readers take away is directly proportional to that they bring. Pessl plays with the fantastic well. She knows the import both of rules and breaking those rules.

'Night Film' is a big book that doesn't feel big. Pessl's prose tends to feel airy and light, sure of foot and easy to read. For all the fun she has with the goofy side of her detectives and their quest, she's quite adept at building up a real reservoir of feeling. When matters become serious, it happens naturally, and the poignant moments are surprising and unforced.

When readers these days are confronted with a large novel, there's a temptation to read it as quickly as one can. 'Night Film' may lend itself to this. It's pacy novel with nice dollops of terror and tension. My advice is to take it slow and savor it. yes, this is the sort of novel that you can re-read to get a new experience. But as you come to the end, you'll want your first reading to last longer. It is one thing to search for something, like a good novel. It is another thing to find it, and realize just how good it was, as you come to the final page.