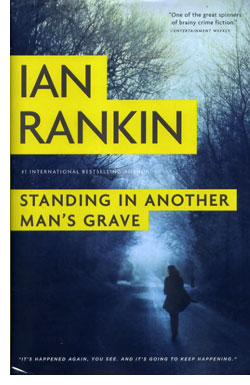 Ian Rankin
Standing in Another Man's Grave
Reagan Arthur / Little, Brown / Hachette Book Group
US Hardcover First Edition
ISBN 978-0-316-22458-1
Publication Date: 01-15-2013
392 Pages; $25.99
Date Reviewed:01-31-2013
Reviewed by: Rick Kleffel © 2013

Index: Mystery General Fiction

John Rebus is no longer a cop. Forced into retirement, he's taken a job working on cold cases with a couple of other retirees. It's paper-pushing scut-work, but it's better than being dead, which seems like a destination that is all too near. Then he takes a call from Nina Hazlitt, a woman whose daughter disappeared six years ago. Nina's never let go, and when she calls into the cold case unit looking for the cop who led the investigation, she gets Rebus instead. Rebus gives her just enough credence to let her get her foot into the door, and in short order, he finds himself looking for much more than her daughter.

'Standing in Another Man's Grave' is a sort of reboot for Rebus, and for readers who have never read Rankin's work, it's a sterling place to start. The upside is that you're going to read an outstanding novel, filled with memorable characters, conflicts, layers and twists that are extremely immersive and rewarding. The downside is that you're going to want to go back and add Rankin's entire back-catalogue to your own cold case files. It's a win-win for everyone, really, other than the few folks in the novel who have the unfortunate luck to cross both Rebus and the law. Rebus may seem shaggy, unkempt and disorganized, but he's persistent and pushy. He doesn't make a lot of friends, but he solves cases in a manner that makes for a superb novel.

From the beginning of 'Standing in Another Man's Grave,' Rankin's prose is a joy to read. It's filled with great lines and feels detailed and dense, but never difficult or slow. Rankin writes his prose with a very dialed-back, understated sense of wry humor that makes every scene effective and entertaining. The dialogue rings true and is nicely interspersed to keep a lively pace. Since the novel spends a fair amount of time on the road, we are gifted with Rankin's evocative descriptions of the Scottish landscape. Rankin manages to write a novel that creates a subdued, moody atmosphere with an effortless grace that is extremely easy and pleasing to read.

Readers will find a rather large cast here, but even if you are not familiar with the series, Rankin does a great job of setting everyone up while never making it feel as if we're getting the brief. The characters enter the scenes with lots of history that we can sense from Rankin's language and Rebus's reactions. Cafferty, an ex-crime boss and one-time nemesis, now has the occasional drink with Rebus. Malcolm Fox, who had two novels in the lead as a member of "The Complaints," that is, the cops who sniff out bad apples in the department, here proves to be a nemesis for Rebus as well. Fox is a by-the-book fellow, and he has no time for Rebus's rebellion and rule-skirting. Fox warns Siobhan Clarke, once Rebus's sidekick, that she'd do better to stay away from Rebus. The tensions between the cops are effectively layered with those of the suspects and the victims' relatives. Even the one-scene characters have real heft. For all the people you meet in this novel, there are none you will forget.

From the first scene on, Rankin crafts a story of growing tension and intricacy. As Rebus begins to investigate the disappearance of Nina Hazlitt's daughter, he finds that there is much more to the case than he at first suspected. For all that he is working a cold case, Rebus really wants to be back in the thick of it, in active pursuit of someone in flight. The solution here is never straightforward and the complications offered by the villainous attentions and intentions of both Cafferty and Fox are just two threads in a story that grows organically. Rankin paces all this with an admirable precision and the very restrained use of perspectives other than that of John Rebus.

The balance in this novel between our enjoyment of the journey and our anticipation of the solution is superbly wrought. Rankin's pacing, prose and his sense of detail feel simple and naturalistic. Nothing is forced or exaggerated, but the investment, involvement and rewards are all supremely satisfying. There's no need to have read any of the previous Rebus novels to make this one work. 'Standing in Another Man's Grave' is superb completely on its own. It has the feel of an enjoyably-complicated literary novel and a snarky, rebellious character who makes it fun. John Rebus may be retired, but readers will want go back to (re-) experience his youth, and hope for more to come. Complications and complaints be damned. This is a world we want to enjoy, one muddy footstep after another.