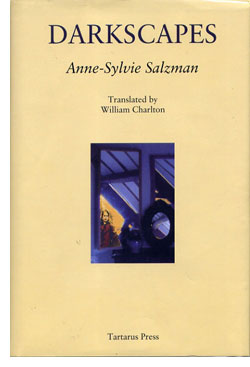 Anne-Sylvie Salzman
Translated by William Charlton
Darkscapes
Tartarus Press
UK Hardcover First Edition
ISBN 978-1-905-78457-8
Publication Date: 08-06-2013
197 Pages; £35.00
Date Reviewed: 08-23-2013
Reviewed by: Rick Kleffel © 2013, 2014


Index: Horror Fantasy General Fiction

Editor's Note: An outstanding collection and an essential book for all serious readers of dark and fantastic fiction. Not to be missed under any circumstances! The review has been updated upon my re-reading for the interview.

Narrative and story can lead us to visions of that which is impossible — that which can drive us mad, or make us feel as if we already are mad. The horror story in particular offers the possibility of a temporary release from sanity and safety. The fifteen stories in 'Darkscapes' by Anne-Sylvie Salzman, translated from the French by William Charlton, offer a literary taste of madness, an intense inversion of reason that is powerful, sometimes unknowable, and almost always unforgettable. Salzman is the perfect 21st-century bride for Edgar Allen Poe.

The book is divided into four sections; "Lost Girls," "Crucifixions," "The Story of Margaret" and "Wildlife." The titles are pertinent, if sometimes a bit oblique. They suggest and enhance the stories within, but don't confine them. Once you dig into this collection it becomes clear that Anne-Sylvie Salzman is not a writer who can be confined.

The collection starts strong with "Child of Evil Stars," a story that involves two friends and the denizens of a traveling circus. Using these familiar ingredients, Salzman manages to serve up a superbly-drawn surprise. "Fox Into Lady" evades any expectations you might bring to such a title and offers a glimpse at Salzman's more hallucinatory style. "The Old Towpath" is a smart turn on what happens when you stray from the road, while "The Opening" takes readers on a beach journey that will be unfortunately difficult to dislodge from memory. The first section concludes with "Mennanaich," a tale about a father's obsession with his dead daughter that does not work out well.

Readers will immediately notice that Salzman brings a very different voice to these stories; it is a womanly voice, with a grown woman's concerns, not to be confused with a feminist voice. Salzman is not fighting for a cause, but offering readers a unique, generally terrorizing vision of the world around us, where men and women are equally powerless, while reality and nightmare are fighting for equality.

The second section of the book, "Crucifixions" begins with "Passing Forms," in which a man named Bale goes upon a vacation and encounters a most unfortunate form of roadkill. "Under the Lighthouse" takes us with great ease into the world of nightmare, while "Pan's Children" puts us in the mind of a nightmare. "Brunel's Invention" and "Shioge" work with powerful, hallucinatory prose to craft first-class horrors that are easily experienced as a reader by working at the edges of story and sanity. Salzman is adept at using narrative to explore mental instablity.

The third section, "The Story of Margaret" is sort of one long story split into two different perceptions. It involves artificial eyes, two women who are friends and so many layers of cross-talk and echo that it feels as if you're reading the book in a large, blood-splashed operating theatre. It is nothing short of astonishing and an utterly original work. You'll not read anything like it soon, and it conjures up imagery you won't forget.

The book finishes up with a section titled "Wildlife," and by the time you get there, you'll know that Salzman is ever-able to sidestep your expectations and deliver a searing series of sentences that will take you into a visionary world of borderline madness and gorgeous insanity. In "Hilda," the narrator acquires a pet selot (akin to panther) and finds herself infected by its vision. In "Lamont," a young man meets a girl he likes, but their relationship is rather more complex, original and unusual than anything you've ever read. The book concludes with "Feral," about a young girl who leaves civil society behind. Read it with care, as Salzman's prose might make you feel a sense of vertigo as you hover above those fleshy, clothed figures on the street around you. Salzman's sense of character captures the amoeba-like, squirming monsters that humans can so easily become; her plots take those sidewise steps into the unfamiliar that lead to painful tragedy.

As usual, Tartarus presents Salzman's work with class. William Charlton's translations are at least as amazing as the work presented, since they capture Salzman's oblique approaches with effortless ease. 'Darkscapes' is an important work, and owning one of these books is going to soon be very difficult. Salzman has a very unique and interesting voice. She speaks as a woman; her concerns and observations are those of a woman, not a girl. But she's on the bleeding, distressing edge of human madness. Salzman knows that we live in our heads, and she takes readers there to plant sentences and words that drag us to a place where pain and shame and terror and lust are indistinguishable. For those seeking a collection of stories that truly are tales of mystery and imagination, stories that are all too human, 'Darkscapes' offers a series of maps that will lead you to places from which your reading mind will find it difficult to return. [Afterword to Review, 12-01-2014]

Upon re-reading, 'Darkscapes' retains its intensity, and manages to gain more depth and subtlety. Make no mistake, even when you know what is coming, the shocks and the disturbing dissonances of insanity are there as well. The variety of tones and topics makes the collection much easier to read, because the reader is kept off-balance and each successive story seems new and fresh.

Readers who enjoy the short stories of Clive Barker and Shirley Jackson will find ample rewards here, as will those who enjoy work in a slightly more experimental style along the lines of Jeff VandeerMeer. Margaret Atwood fans will enjoy the starkness of Salzman's vision. I can't say if the first edition has sold out, but it should. If you find yourself reading these words, you'd be well-advised to go straight to the source and ensure that you pick up what i feel will be an essential work n the canon of early 21-st century weird fiction.